About company
Toyota Motor Corporation is a Japanese automotive manufacturer. Toyota designs, manufactures, assembles, and sells passenger cars, minivans and commercial vehicles, and related parts and accessories. The company operates through Automotive, Financial Services, and All Other segments. Toyota takes 9th place in the ranking FT Global 500 2015, where companies are ranked by market capitalization. Toyota Motor Corporation produces vehicles under 5 brands, including the Toyota brand, Hino, Lexus, Ranz, and Scion.
Securities of the company are traded on the TYO, NYSE and LSE. The number of issued shares of the automaker 3,41 billion (as of 2015). Their main holders are the Japan Trustee Services Bank, The Master Trust Bank of Japan, and Toyota Industries Corporation.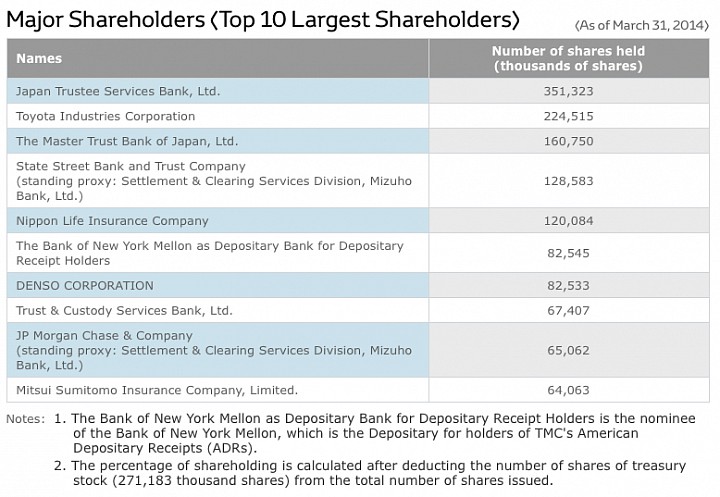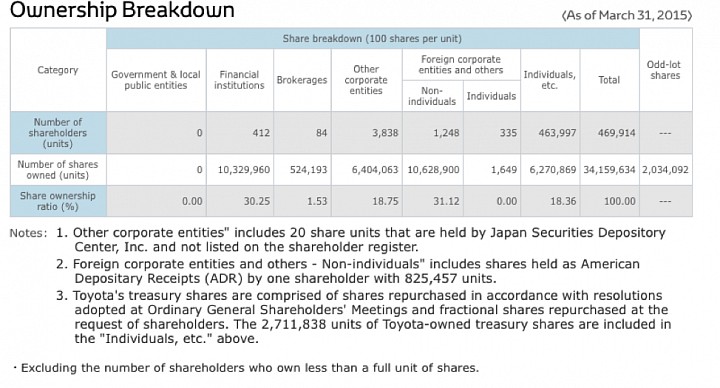 According to Toyota Motor Co
New forms of movement
Toyota is a minority shareholder in Mitsubishi Aircraft Corporation, having invested US$67.2 million in the new venture which will produce the Mitsubishi Regional Jet, slated for first deliveries in 2017.
In addition, Toyota announced that is backing away from fully electric vehicles. The company's vice chairman, Takeshi Uchiyamada, said "The current capabilities of electric vehicles do not meet society's needs, whether it may be the distance the cars can run, or the costs, or how it takes a long time to charge." Toyota's emphasis would be re-focused on the hybrid concept, and 21 new hybrid gas-electric models scheduled to be on the market by 2015.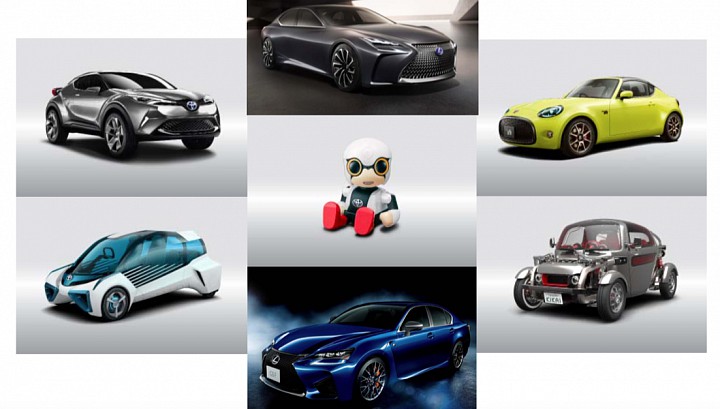 Recent news
Toyota Motor announced a share buyback, as a weaker yen added to earnings momentum ahead of an overhaul of its product lineup starting with the new Prius hybrid.
Company maintained its full-year profit forecast at a record ¥2.25trn. The company will buy back up to 0.72% of shares for as much as ¥150bn, according to a statement. Japan's dominant automaker overcame weak domestic demand to reclaim its position as the world's top-selling carmaker.
Toyota issues class shares
Toyota is offering investors five-year shares designed to match the long-term needs of its R&D. Toyota believes that developing the next generation technologies will require massive investments over many years.
They have decided to issue the First Series Model AA Class Shares with voting rights and transfer restrictions that assume a medium to long term holding period.
These shares will be sold only in Japan; they will not be listed, but will have voting rights. They will be priced at 120 per cent of the ordinary shares and will be paid a dividend at a rate lower than ordinary shares but at an increasing rate every year. The company will commit to buy back the shares at the original price after five years.
Financial situation
Toyota Motor has regained its crown as the world's biggest car company by sales, displacing Volkswagen as the embattled German manufacturer grapples with the fallout from its emissions cheating scandal.
Volkswagen had overtaken Toyota in global sales for the first half of 2015, threatening to end the Japanese group's three-year reign as the world's top-selling carmaker.
Toyota sold just over 7.49m vehicles in the nine months to September, 5.85m of which were outside Japan, while Volkswagen sold 7.43m. In the first six months Toyota sold 5.02m vehicles to VW's 5.04m. Both meet sales fall 1.5 per cent for the nine months on a year-on-year basis.
Vehicle Sales by Region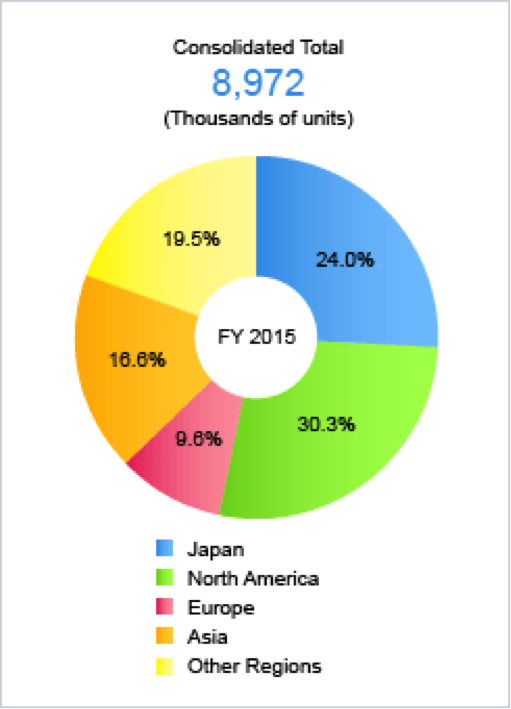 Vehicle Sales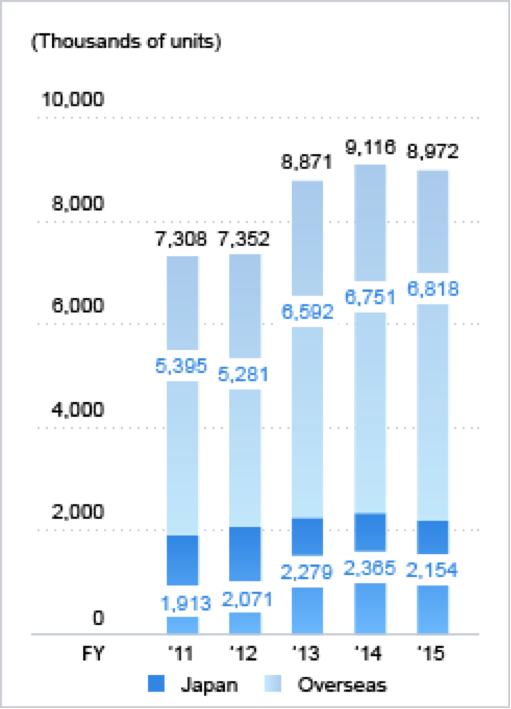 According to Toyota Motor Co
An annual dividend of 200 yen per share was paid for fiscal 2014, consisting of a year-end dividend of 125 yen per share and an interim dividend of 75 yen per share.
Toyota normally pays the interim dividend in late November. So for those who want to take profit from Toyota securities, you should buy shares immediately as share price will grow in the moment of paying dividends.
Dividends per share

According to Toyota Motor Co
Valuation

Source: made by TRADEintime (based on data from Morningstar)
The company were currently trading at P/E of 10,2, so investors are willing to pay 10,2 dollar for 1 dollar of current earnings. But Industry Average is higher for 2,4, it is a very big difference.
We see that Price/Cash Flow is much more higher than Industrial average, almost 5 times! On the one hand, higher ratio may suggest potential overvaluation, but, on the other hand, company may only be marginally profitable, investors will be willing to give it a higher valuation because of its growth prospects. 

Source: Morningstar
A graph that shows the change in value of an initial $10,000 investment over a period of time. The "growth of 10,000" chart is typically used to compare the returns from various investments, either against each other or against an underlying benchmark. The returns shown in such a chart include reinvestment of dividends and capital gains, but exclude fees and sales charges.
Technical Analysis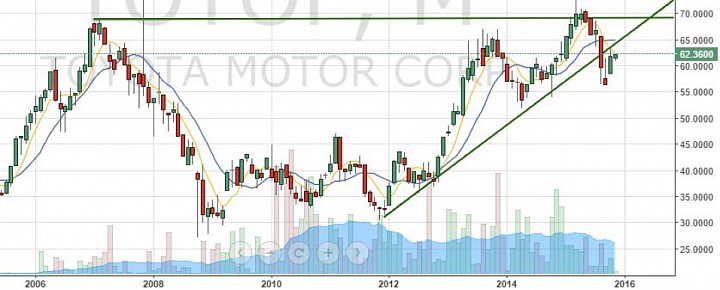 Source: made by TRADEintime (based on tradingview)
The classical analysis of the lines of support and resistance says that the process of fluctuations between 52-65 could be started, and this will last for several months. We see, that the top point of resistance have not been able to pass yet.
When prices reach this level (if not a sharp negative part of the company), then people will start to buy shares at these prices. But this is only an assumption based on the fact that there was a rebound from the strongest line. According to this chart anything we can not say with absolute certainty, except that the probability of strong growth of above 70 is not very likely.
Our recommendations
1. For the short-term investment (near future, approximately 2 weeks), we suggest to buy the shares as in the end of November Toyota pays the interim dividend.
2. For the medium-term investment (a few months), we suggest to hold securities.
3. For long-term investment (5 years) is also recommended buying shares.
In any case you should totally buy Toyota Motor shares!