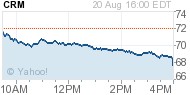 SAN FRANCISCO (AP) _ Salesforce.com Inc. (CRM) on Thursday reported a loss of $852,000 in its fiscal second quarter.
The San Francisco-based company said it had a loss of less than 1 cent on a per-share basis. Earnings, adjusted for stock option expense and amortization costs, came to 19 cents per share.
The results exceeded Wall Street expectations. The average estimate of 21 analysts surveyed by Zacks Investment Research was for earnings of 17 cents per share.
The...
More