As we noted on Saturday, the US is working hard to make the world safe for democracy, but despite Washington's best efforts, its allies seem determined to undermine the global balance of power. For instance, the UK is set to become the first G-7 country to join the Asia Infrastructure Investment Bank, a sinocentric institution ostensibly aimed at assisting in the development of underdeveloped parts of Asia, but which the White House knows is really just a Chinese foreign policy instrument in disguise. Proving just how slippery the slope is, it now appears Australia may consider joining as well despite a personal appeal from the White House. Furthermore, we learned over the weekend that web traffic from the UK agency in charge of building nuclear warheads was accidentally routed through Ukraine last week. All of this at a time when Western military spending outside of the US has failed to keep pace with expenditures in China and Russia, a dynamic which, as the Washington Post put it, has reduced the UK to "Washington's tough talking wingman." 
Today, we learn that not only is China building weapons at a faster clip than most Western nations, they're also selling them to 'powerful' US enemies like Myanmar and Bangladesh. Here's Reuters: 
China has surpassed Germany to become the world's third largest arms exporter, a Stockholm-based think tank said in a report on Monday.

 

Exports of major arms from the world's second largest economy grew 143 percent over the years 2010 to 2014, versus the previous five-year period, when China had ranked ninth globally, the Stockholm International Peace Research Institute (SIPRI) said in a report.

 

"Asian countries continue to expand their military capabilities, with an emphasis on maritime assets," Siemon Wezeman, senior researcher with the SIPRI Arms and Military Expenditure Programme, said in a news release.

 

More than 68 percent of Chinese exports went to Pakistan, Bangladesh and Myanmar. Beijing also sold major arms to 18 African states.

 

Analysts say Chinese-made equipment has found eager buyers among countries at odds with the United States and its allies.
To let China tell it, they're extremely responsible in who they sell weapons to, as the Foreign Ministry says it "follow[s] principles of helping the receiving country with its reasonable self-defense capabilities, not damaging global and regional peace and stability, and not interfering in the receiving country's internal politics." Then again, that's exactly what you would say if you were trying to undermine geopolitical stability, and as Reuters points out, modernizing your military is indicative of a "more assertive stance" towards "disputes": 
China's military spending has seen double-digit growth for decades, and Beijing has poured funds into modernizing its armed forces as it takes a more assertive stance on territorial disputes in the region.
Fortunately, the US still accounts for a third of all total arms exports (so, more than 6 times what China exports) which should go a long way towards ensuring that weapons don't end up in the wrong hands although, as SIPRI notes, exporting weapons is increasingly tied to maintaining Lockheed Martin, Raytheon, and Northrop's bottom lines rather than to maintaining security:  
The volume of US exports of major weapons rose by 23 per cent between 2005–2009 and 2010–14. The USA's share of the volume of international arms exports was 31 per cent in 2010–14, compared with 27 per cent for Russia. Russian exports of major weapons increased by 37 per cent between 2005–2009 and 2010–14. During the same period, Chinese exports of major arms increased by 143 per cent, making it the third largest supplier in 2010–14, however still significantly behind the USA and Russia.

 

'The USA has long seen arms exports as a major foreign policy and security tool, but in recent years exports are increasingly needed to help the US arms industry maintain production levels at a time of decreasing US military expenditure', said Dr Aude Fleurant, Director of the SIPRI Arms and Military Expenditure Programme.
Here are the top 10 exporters by country…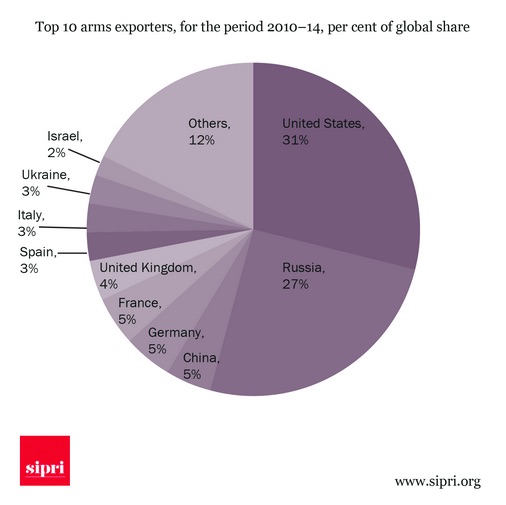 ...and here is the trend…