A sea beacon might be the ultimate fantasy home—romantic, historic and right on the water. But as a growing number of lighthouses come on the market, there are drawbacks to consider: beware the foghorn.
Saybrook Breakwater Light, a white, cast-iron lighthouse shaped like a sparkplug, has guarded the mouth of the Connecticut River since 1886. A local icon, its image appears on postcards and some Connecticut license plates. Now the landmark beacon is about to embark on its second act, as a private pied-a-mer.
Siren's Call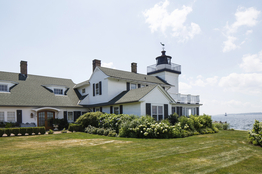 Nyatt Point Lighthouse, an 1828 house with a tower in Barrington, R.I., was bought by Neil and Christine Feins for $1.375 million for use as a weekend home. Dr. Feins says he has become a de facto guardian for mariners on Narragansett Bay. Bob O'Connor for The Wall Street Journal
Its new keeper, Kelly K. Navarro, the wife of Benjamin W. Navarro, founder of debt-collection firm Sherman Financial Group, snagged the lighthouse with a bid of $340,000 in an online government auction Monday. The bid was placed through her limited-liability company, Water III, which also holds the title to two waterfront homes directly offshore from Ms. Navarro's new lighthouse in the exclusive borough of Fenwick, home of the late Katharine Hepburn.
Along with stunning 360-degree views of Long Island Sound, Ms. Navarro's 48-foot-high getaway comes with a bright green light that flashes every six seconds, and an electronically sensitive foghorn so loud that a sign on the first level warns "DANGER: Hearing Protection Required In This Area." Since the lighthouse is still used as an active aid to navigation, Ms. Navarro can expect periodic visits from the Coast Guard, which will need to keep a set of keys to the place.
One part unique retreat, one part folly, the private lighthouse may be the ultimate status symbol for those in search of a great place on the water.
Although some lighthouses have been privately owned for decades, more are now joining their ranks under the 2000 National Historic Lighthouse Preservation Act, which allows the federal government to sell the landmarked beacons. Since the act was passed, 33 active lighthouses have been auctioned off to private owners. Graves Island Light Station, a wave-swept granite tower on a rocky 10-acre ledge in Boston Harbor, is now on the block. Bidding stood at $761,888 on Thursday—a record amount for any lighthouse auctioned by the General Services Administration.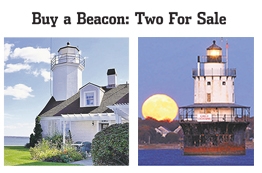 There are some 700 lighthouses still standing in the U.S., according to Jeremy D'Entremont, a historian for the American Lighthouse Foundation. Most were built in the 19th century in essential shipping channels, with the highest concentration on the Northeast coast and in the Great Lakes region. These days, that is coveted real estate.
The aging beacons have become very costly for the government to maintain—and GPS technology has made their navigation services less essential. Between five and 10 lighthouses are sold every year. Public and nonprofit groups willing to assume guardianship get first dibs. If none come forward, the lighthouse is sold to the highest bidder through an online auction at the GSA website.
The auction price is just the cover charge. It takes deep pockets to turn an offshore lighthouse into a luxury retreat. New owners must provide all their own utilities—power, water and sewer. Construction costs multiply exponentially when done on water—and lighthouses demand constant work to maintain.
Because the lighthouses are federally landmarked, new owners must clear any remodeling plans with state historic-preservation offices. If you ask nicely, the Coast Guard might baffle one side of the foghorn to blunt its noise inside. But those used to living large may have a harder time adjusting to cramped rooms, low ceilings and small windows—less glass for a gale to shatter.