Singapore Becoming Global Gold Hub - Launches Kilo Bar Contract And Gold ATMs
Singapore continues its push to be a global gold hub. The new exchange traded Singapore kilobar gold contract will launch in less than two weeks - on October 13. The new contract is a 1 kilogramme physically deliverable gold contract for the Asian and global wholesale gold market.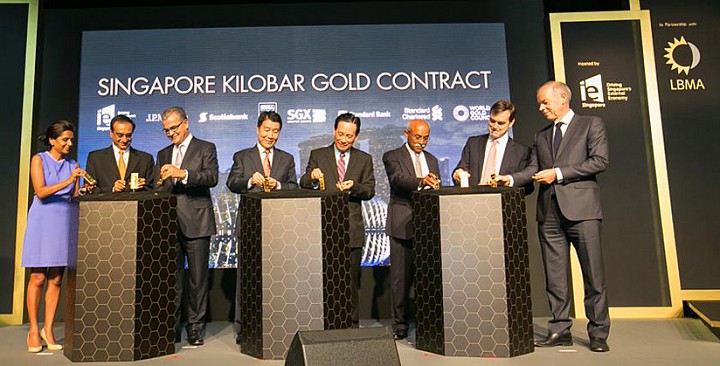 Launching of SGX Gold Futures Contract: (from left) Harshika Patel, Managing Director, JP Morgan; Sunil Kashyap, Managing Director, Bank of Nova Scotia; Aram Shishmaniam, CEO, World Gold Council; Ng Cheng Thye, President, Singapore Bullion Market Association; Seah Moon Ming, Chairman, International Enterprise (IE) Singapore; Muthukrishnan Ramaswami, President, Singapore Exchange; Philip Hurley, CEO (South East Asia), Standard Merchant Bank; Jeremy East, Managing Director (Global Head of Metal Trading), Standard Chartered Bank.

In a joint statement, International Enterprise (IE) Singapore, Singapore Bullion Market Association (SBMA), Singapore Exchange (SGX) and the World Gold Council, announced the new contract yesterday.

The contract will be traded on SGX, the first wholesale 25 kilobar gold contract to be offered globally, and this is a collaboration among the four parties. The SGX is Singapore's securities and derivatives exchange and clearing and depository provider.

This caters to the very high demand for physical gold in China and throughout Asia, which has increased significantly over the last decade.

This new gold contract differs from others in that as well as acting as a price discovery benchmark for 1kg gold bars in the Asian region, it has been specifically designed to actually deliver gold to large buyers, wholesalers and institutions, presumably including central banks.

Settlement of the contract is in gold 1kg bars and not in cash. A 1kg gold bar is 32.15 troy ounces.
The Singapore contract will be in lots of 25 kilogrammes and denominated in U.S. dollars. It will trade for three hours in the Singapore morning time. Singapore is 7 hours ahead of London and 12 hours ahead of New York, and 2.5 hours ahead of the Indian market, but is in the same time zone as both Hong Kong and Shanghai.
Six consecutive daily contracts will trade at the same time, so when one contract expires, another will be added.
Physical settlement is two days after trade date and consists of 99.99 purity 1 kilogramme gold bars that meet the approval of the Singapore Bullion Market Association (SBMA) good delivery list . This means that wholesalers will be able to gauge demand and supply of 1 kg bars over the following week.

Some analysts have said that the protests in Hong Kong and the uncertain political outlook in Hong Kong may give Singapore an advantage in terms of becoming Asia and possibly the world's global gold hub.

Separately, the first gold-dispensing automated teller machine in Asia have been launched in Singapore. The two ATMs are in Marina Bay Sands and Resorts World Sentosa hotels.

Launched by Asia Gold ATM, Singapore is the fourth country to have the facility, next to the UAE, the UK and the US. Items such as 1g to 10g pure gold bars, as well as customised gold coins, can be bought from the machine.
Last Wednesday, the day the machines were unveiled to the public, a one gram pendant sold for $100 while it was $660 for a 10 gramme. The items can be paid through credit card or cash. Gold will be sold at different prices daily, based on the day's global prices.

The ATMs mean little or nothing with regards to Singapore becoming a global gold hub. However, they show how gold is respected and sought after in Singapore and the people and institutions of Singapore, have a significant cultural affinity with gold.

Unlike in the west, where people who believe in using gold for wealth preservation or for saving are sometimes called names and dismissively called "gold bugs".

Gold and money, throughout history has flowed to where it is better treated. Today, gold continues to flow from West to East. A sign of shifting economic fortunes.





Essential Guide To Storing Gold In Singapore
RECEIVE OUR IMPORTANT MARKET UPDATES HERE