$1200 on AMZN in a week: the stock will stay in $505-690 range by the end of the next week.

28 april 2016
Amazon is going to have the earnings call today after the closing bell. To be honest, I am waiting for the earnings a lot due to several reasons:
NFLX and GOOG from the FANG group dropped more than 7% after the earnings calls, FB grew up more than 10%;
AMZN dropped after the previous earnings call - the company showed some great trends, but missed the estimates ("hello, analysts");
The stock is definitely will be volatile after the announcement.
And we are going to earn some money based on the third point. The strategy will look like the one we have for AAPL and FB (short strangle for Apple; short strangle for Facebook). The difference is that AAPL and FB are a lot cheaper than AMZN (6 times, that's a huge difference).
So here is the same strategy of selling the deep in money strangle. It will not give you a huge return if you buy 100 shares, but it will make you some money even you sell just one put and one call. Here is the outlay:

And here is the PL profile: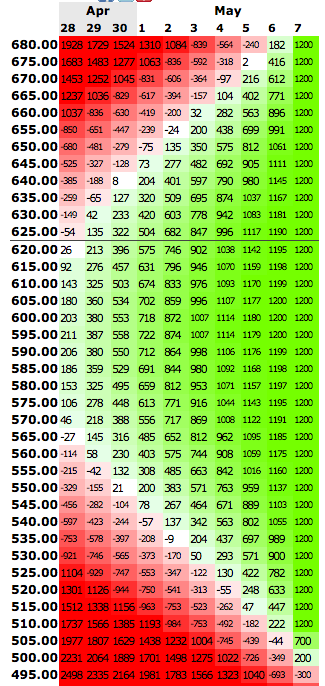 Again, the stock needs to be super volatile after the earnings call and a week after it, but:
you can get $1200 return if the stock doesn't move more than 17.8% down or 10% up;
you can get some return if the stock moves almost 20% down and 11% up;
you can buy a call if you want to hedge the potential upside for more than 11%.
Yes, this strategy looks risky, but do you think that AMZN is possible to move more than 20% down after the earnings call? I don't think so, GOOG and NFLX moved just 7%, FB moved up 10%. Another way to handle it is to sell 6th May $690 call to move the top price a little bit higher. If you want to hedge, you can buy an ATM or even OTM call.
Reminder: This is a poll: AGREE if you think that AMZN will stay in a range of $505-690, DISAGREE, if you think it will go beyond.