As noted yesterday, the short interest heading into today's 10 Year auction was massive. So massive, in fact, that the 10Y was trading super special in repo to the tune of -2.24%...

... as an unknown number of speculators had hoped that what did not happen in March (when the 10Y auction carried a comparable short interest) will take place today. Sadly for them, they will have to wait one more month, while suffering yet another squeeze in the interim, because moments ago the 10Y priced at a yield of 1.925%, well through the 1.929% When Issued, and the lowest yield for bond auction since the bond market's "Taper Tantrum" freak out in May of 2013.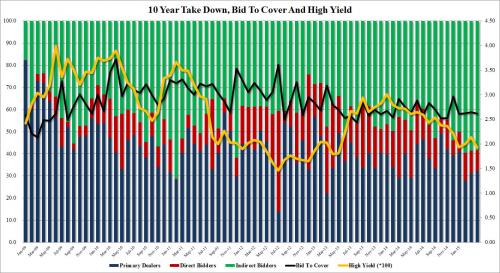 The internals were solid: Bid to Cover of 2.62, in line with last month's 2.65, and a fraction below the TTM average of 2.69. The Dealers took down 32.2%, 100 bps higher than a month ago, while Indirects (aka mostly foreign central banks) once again ended up with a near record 58.5% (last month it was 58.6%) while the Pimcos of the world and other Direct Bidders had to contend with just 9.3% of the final allottment.
And so, one more month, the bond bubble which is second only to the stock bubble, continues chugging along mostly thanks to the very same central banks who have no choice but to keep buying America's "high" yielding Treasurys (compared to Europe's NIRP and Japan's DERP), even though the same central banks would like nothing more than to reset the 10Y to trade somewhere around 4% just so they can finally proclaim mission accomplished and say the US economy is once again growing at its historic pace.