Boeing is due to report Q1 2016 earnings on April 27, after market close.
Boeing is expected to report poor revenue growth due to weak demand for its long-range planes.
However, Boeing's long-term investment thesis remains intact mainly due to consistent growth in air traffic.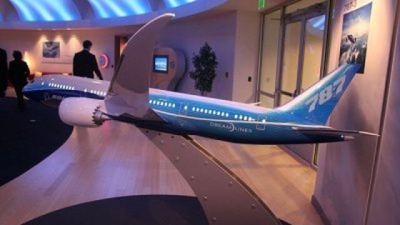 Giant aircraft maker Boeing Co (NYSE:BA) is due to report Q1 2016 earnings on Apr. 27, 2016 before market open. Wall Street consensus calls for revenue of $21.90B, good for -1% Y/Y growth and EPS of $1.87, good for -2% Y/Y growth. Meanwhile, there is an earnings whisper that Boeing might post EPS of $1.92, good for a 2.7% Y/Y growth.
Boeing did not offer specific Q1 guidance but issued full-year 2016 guidance as follows:
740-745 airplane deliveries for the full year, 2.5% lower compared to 2015 deliveries. The company attributed the lower expected deliveries on lower production for 737 planes and a production cut on 747.
2016 core earnings in the range of $8.15-$8.35, which works out to 10% year-over-year decline at the mid-point and way lower than Wall Street consensus of $9.43.
Boeing has managed to exceed earnings estimates by a good margin in the last four consecutive quarters. During the fourth quarter, the company beat on the top line by $50M and exceeded EPS consensus by $0.34.
Boeing Earnings Surprise History
Fiscal
Quarter End
Date
Reported
...
More