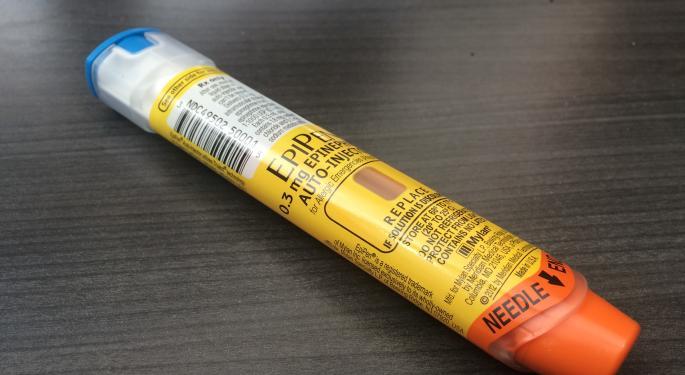 Martin Shkreli joined Benzinga's PreMarket Prep on Monday morning, so of course we were going to ask him his thoughts on the Mylan NV MYL-EpiPen controversy.
"From a fairness perspective, it's not very fair," the provocative biotech exec told Benzinga.
The co-founder and former CEO of Retrophin Inc RTRX, who went into a variety of topics including Hillary Clinton and her health, to Jazz Pharmaceuticals plc JAZZ's undervaluation, compared Mylan's situation to that of a large hardware store. Large pharma companies, he said, can have hundreds of different products, so they may be able to afford to underprice some of their drugs. But when smaller companies buy these drugs, like Mylan did with the Epipen, they may have to subsequently raise the price in order to get what the drugs are worth.
Related Link: Exclusive: Why Martin Shkreli Feels He Has Been Vindicated
"If you ask that clerk 'What's the price of that hammer in the back,' they probably don't know it off the top of their head. They probably don't think about it too hard," he said.
"And when Mylan buys [the Epipen], of course it's a bigger product for them. So they decide to say 'Hold on a second, this drug is really underpriced' and as they raise the price people scream and cry 'That's unfair' but what they forget is they had it good for such a long time with the low price."
What Shkreli did find odd is that Mylan is mostly a generics company, which usually aims to make drugs more affordable for people. Still, in his due diligence Shkreli said he didn't find the stock particularly under or overvalued.
"It's a really well-run company. Is it a great stock is another question."
Listen to the full interview in the clip below. The full Mylan-Epipen discussion starts at 6:33.
PreMarket Prep is a daily trading ideas show that focuses on technical analysis and actionable short term trades. You can listen to the show live every morning from 8-9 a.m. ET here, or catch the podcast here.
© 2016 Benzinga.com. Benzinga does not provide investment advice. All rights reserved.