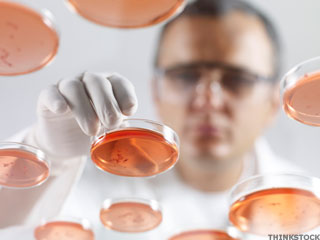 The poster contains a full presentation of data from a phase II study of Intra-Cellular's experimental schizophrenia drug ITI-007. Kim Vanover, the company's top scientist, presented the ITI-007 data poster in May at the American Psychiatric Association annual meeting.
Investors asking Intra-Cellular for a copy of the poster in order to conduct due diligence on ITI-007 are told they can't have it. Instead, Intra-Cellular steers investors to press releases and investor presentations that explain the results (all positive) from the phase II study.
STOCKS TO BUY: TheStreet Quant Ratings has identified a handful of stocks with serious upside potential in the next 12-months. Learn more.
I also asked Intra-Cellular for a copy of the ITI-007 poster but was denied. "The poster is not available at this time but the company is in the process of publishing the ITI-007 Phase II schizophrenia study in a peer-reviewed journal," said a company spokesman via email.
The ITI-007 poster was presented at an open scientific meeting, so the "We want to publish the data" excuse doesn't make sense. Biotech and drug companies share publicly presented scientific data with investors all the time, making Intra-Cellular's refusal to do the same unusual.
Intra-Cellular tells a very upbeat and promising story about ITI-007. The drug significantly reduced the symptoms of schizophrenia better than placebo, according to the phase II results Intra-Cellular provides to investors. In the same study, ITI-007 matched and on some measures even surpassed the efficacy and tolerability of risperidone, an approved antipsychotic drug widely used in the treatment of schizophrenia.
Intra-Cellular is now conducting two, large phase III studies of ITI-007 in schizophrenia. Results from the first of these studies are expected in the fall...
More