Live feed
*  *  *
Last weekend, Donald Trump served notice that he hasn't lost his flair for the dramatic when, after a short flight from LaGuardia in his private 757, the brazen billionaire arrived at the Iowa State Fair in a $7 million Sikorsky.
On Friday evening, Trump will look to one up himself in Alabama where, sensing an opportunity to create the biggest spectacle yet, his campaign decided to move a rally originally scheduled for the Mobile, Alabama Civic Center to Ladd-Peebles Stadium.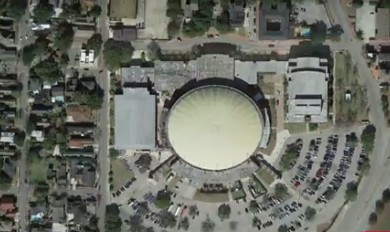 That's right, this evening, Donald Trump will hold what he's calling a "pep rally" at a football field that seats 43,000 people.
We are going to have a wild time in Alabama tonight! Finally, the silent majority is back! http://t.co/Vj8vho1ro7

— Donald J. Trump (@realDonaldTrump)

https://twitter.com/realDonaldTrump/status/634734882728636416
Here's more from The Washington Post on why there's more to the event (from a strategy perspective) than meets the eye:
Mobile, Ala., doesn't usually host presidential primary rallies. But this weekend it's expected to host a doozy. Donald Trump will take over Ladd-Peebles Stadium, usually home to high school football games on Friday nights, not presidential pep rallies. Trump's campaign shifted from a smaller venue to the stadium after seeing big demand for tickets; it expects 35,000 to attend.

 

As with all most things Trump, there's a level of savvy that's not immediately apparent on the surface.

 

Alabama is one of the so-called SEC primary states that lands early in the cycle, adding importance that Alabama doesn't usually have.

 

But Mobile County also lies on the Gulf Coast, one of a string of relatively populous nearby counties. It's close to other big population centers. New Orleans is only two hours away, and Tallahassee 3½ hours. For Trump fans willing to embark on a longer drive, Birmingham and Atlanta aren't too far, either. 

 

 

What Trump's doing, clearly, is not just trying to hold a rally in Mobile. He's trying to show strength across the entire Deep South. If his grandiose expectations come true -- which they have a recent habit of doing -- his point will be made.