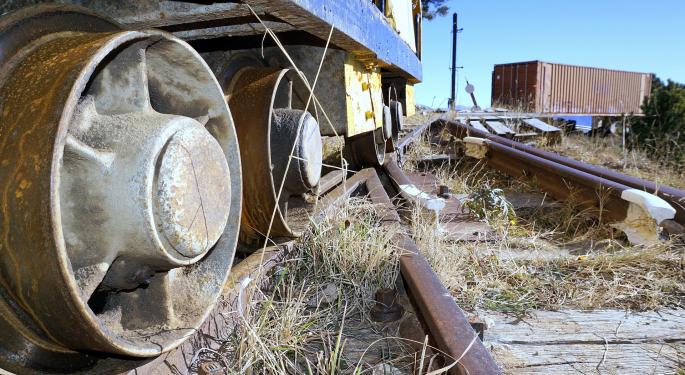 Railroad companies Kansas City Southern KSU and Union Pacific Corporation UNP could have a lot on the line if Donald Trump follows through on his protectionist campaign promises. While most analysts have focused on Kansas City Southern due to its exposure to Mexico, Loop Capital analyst Rick Paterson says Mexico is critical to Union Pacific's growth story as well.
Rails' Exposure To Mexico And NAFTA Possibilities
"Between 2010–2015, Mexico volumes compounded at 5 percent versus 2 percent for the rest of the business, excluding coal," Paterson explained.
On the campaign trail and at the debates, Trump repeatedly criticized NAFTA, an agreement that facilitates trade between the United States and Mexico. If the United States chooses to exit NAFTA, U.S. trade tariffs could stay at zero, revert back to pre-NAFTA levels or be re-set to new levels by Congress. The United States must notify Mexico and Canada six months prior to exiting NAFTA.
Post-Election Reactions
Following Trump's election, Kansas City Southern released a statement saying that the company believes NAFTA has been good for the U.S. economy and currently supports 14 million U.S. jobs.
Since Election Day, Kansas City Southern shares are down 5.9 percent while Union Pacific's shares are up 9.9 percent.
Loop Capital maintains a Hold rating and $96 price target for Union Pacific and a Buy rating and $86 price target for Kansas City Southern.
| Date | Firm | Action | From | To |
| --- | --- | --- | --- | --- |
| Nov 2016 | Bank of America | Downgrades | Buy | Neutral |
| Nov 2016 | Aegis Capital | Downgrades | Buy | Hold |
| Nov 2016 | Oppenheimer | Downgrades | Outperform | Perform |
© 2016 Benzinga.com. Benzinga does not provide investment advice. All rights reserved.