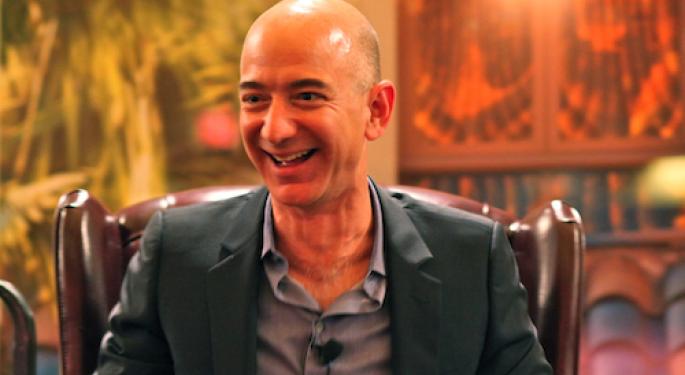 Bill Gates was dethroned as the world's wealthiest person, at least for a few hours, momentarily replaced by short-reigning Jeff Bezos.
With a $1.3 billion boost from Amazon.com, Inc. AMZN 0.75%'s 1.6-percent stock pop, CEO Bezos surged to a value of $90.9 billion Thursday. The 53-year-old surpassed Gates by more than $500 million.
Bezos' new net worth, as calculated by Forbes, represents a 20-percent increase in value since he was appraised at $72.8 billion in March, when he ranked No. 3 on Forbes' list.
As just the seventh person in the 30-year history of Forbes' wealth tracking to claim the "world's richest person" title, he stands alongside Microsoft Corporation MSFT 1.22% co-founder Gates and Berkshire Hathaway Inc. (NYSE: BRK-A) (NYSE: BRK-B) CEO Warren Buffett as the only Americans to top the list.
It took him 19 years to rise from his first appearance on the Forbes 400, back when he had a humble $1.6 billion a year after Amazon went public. The company has risen in value by 61,127 percent, or $1,056, since then, and Bezos holds a 17-percent stake.
A Timeline
Here's a breakdown of his professional journey:
1986: Graduated from Princeton University with Bachelor of Science degrees in electrical engineering and computer science. Joined startup Fitel and built a network for international trade.
1988: Joined Bankers Trust as a product manager.
1990: Joined hedge fund D.E. Shaw & Co., where he rose to senior vice president.
1994: Founded Amazon in a Seattle garage as an online bookseller.
2000: Founded Blue Origin for commercial space travel.
2013: Founded his personal investment firm, Nash Holdings, LLC, and purchased the Washington Post.
2015: Successfully launched and landed Blue Origin's space vehicle.
2016: Made his Hollywood debut in "Star Trek Beyond."
________
Image Credit: By Yolo0906 - Own work, CC BY-SA 4.0, via Wikimedia Commons
© 2017 Benzinga.com. Benzinga does not provide investment advice. All rights reserved.
Source