After a "no change" statement from The BoJ, today's dismal Japanese data was terrible enough to be great news in the new normal as August machine orders drop the most in at least a decade and stocks, USDJPY dipped and ripped. However, it was the China open that investors waited for (after China shares rising 10% in US trading, and CNH strengthening on lower than expected reported outflows) as Goldman slashed its 12m target for Chinese stocks, and Bocom's chief strategist (who called the boom and the bust) says "rally is mirage of new dawn, volume is dying, sell the rallies." PBOC fixed the Yuan at its strongest in 2 months and while Chinese stocks opened up notably it was less than US ADRs suggested (CSI +4% vs ASHR +9.5%).
Global stocks are up 7 days in a row (since Chinese markets shut) - the longest win streak since April... the biggest 7-day rip since Dec 2011...
But we start with Japan.... After a "no change" statement from The BoJ, today's dismal Japanese data is terrible enough to be great news as Machine Orders collapse 3.5% YoY (against expectations of a 3.5% rise) dropping for the 3rd month in a row. This is the biggest MoM drop (-5.7%) for August in at least a decade...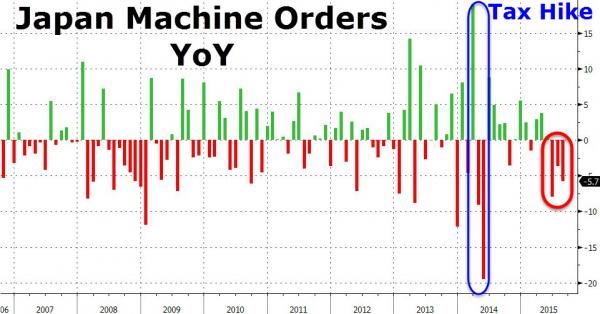 In addition Japanese investors sold the most foreign bonds in 4 months and bought a near-record amount of foreign stocks...
*JAPAN PORTFOLIO INVESTMENTS IN INDONESIA RISE TO RECORD IN AUG.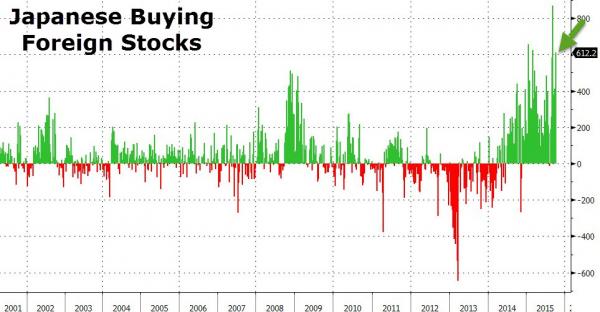 This - notably - sparked weakness in USDJPY and Nikkei 225... but Kuroda and his merry men quickly stepped in to fix that...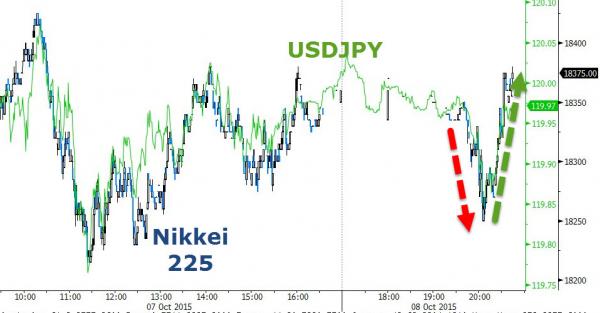 *  *  *
But global investors were waiting with baited breath for the China open (after being told "don't worry" earlier by The PBOC)...
Before it opened, we noted that Offshore Yuan and US equities had decoupled...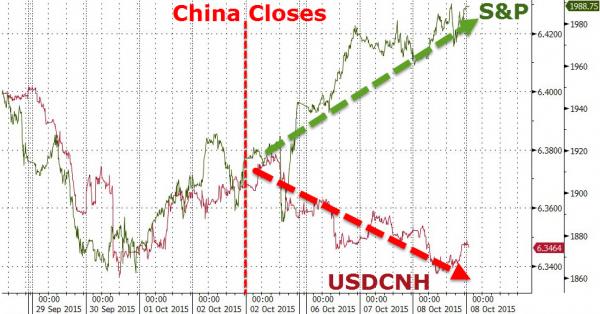 And if last year was anything to go by, it could get ugly...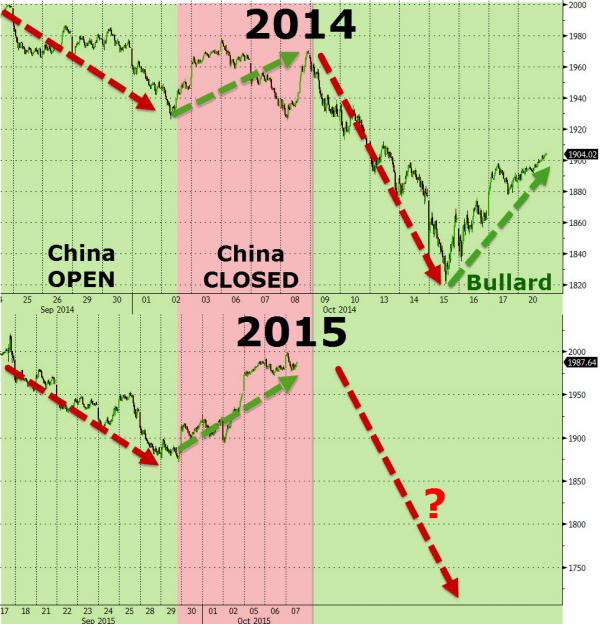 As China returns from a week-long holiday to the following news:
Factory PMIs, both official and Caixin, came in slightly above forecast for Sept.
Govt eased down-payment rules for first-time homebuyers to support housing;
FX reserves fell less than est., easing fears about extreme selling pressure on yuan
Chinese stocks in U.S. rose almost 10% during the break... but while Chinese Stocks open higher (but less than US ADRs suggested)...
*FTSE CHINA A50 STOCK-INDEX FUTURES RISE 7.7% AT OPEN
And then weakened more...
*CHINA'S CSI 300 STOCK-INDEX FUTURES RISE 4% TO 3,251.2
*CHINA SHANGHAI COMPOSITE SET TO OPEN UP 3.4% TO 3,156.07
*CHINA'S CSI 300 INDEX SET TO OPEN UP 3.8% TO 3,324.98
*HANG SENG CHINA ENTERPRISES INDEX EXTENDS DROP TO 1.1%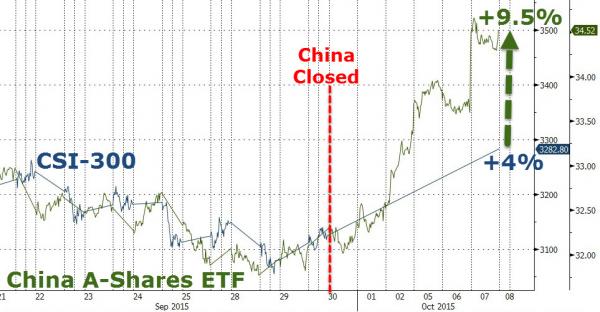 So The PBOC strengthened the Yuan fix to its highest in 2 months...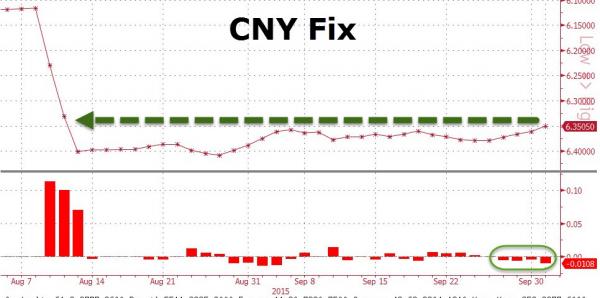 And injects more liquidity...
*PBOC TO INJECT 120B YUAN WITH 7-DAY REVERSE REPOS: TRADER
And this...
https://twitter.com/hashtag/CHINA?src=hash

CENTRAL BANK LAUNCHES

https://twitter.com/hashtag/YUAN?src=hash

CROSS-BORDER INTERBANK PAYMENT SYSTEM ON OCT 8

— Amanda Lee (@Lee_AHY)

https://twitter.com/Lee_AHY/status/651927830792527873
 

 

*PBOC SAYS CIPS OFFERS YUAN CLEARING, SETTLEMENT SERVICE
*PBOC SAYS 19 BANKS PARTICIPANT CIPS

 

 
*  *  *
Goldman has downgraded China...
*CSI300 INDEX 12-MO. TARGET CUT TO 4,000 VS 5,000 AT GOLDMAN
'Reform' and 'liquidity' continue to buttress our constructive strategic market view. Our refreshed 12m CSI300 target is 4,000 (from 5,000), 25% upside, comprising 10% EPS accrual and a liquidity-based target P/E of 12.7X (-0.4 s.d.), but a harsher growth backdrop could see another 8% downside from current levels. Implementation of SOE and other structural reforms, and the 13th Five Year Plan (FYP) are the key issues to watch.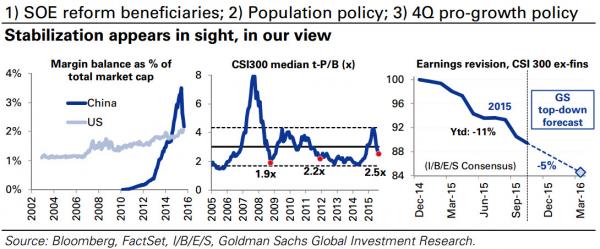 But added...
"Harsher" growth backdrop could see another 8% downside from current level

Govt may need to buy another 200b to 300b yuan worth of equities to keep SHCOMP at 3,100
However, on the other hand, the man who called China's boom and bust warns to sell rallies...
"I still think it's better to sell into highs rather than buying dips," Hong, the chief China strategist at Bocom in Hong Kong, said in an e-mail interview. "The government has succeeded in curbing market volatility. But volume is dying, too."

 

"The government won't intervene actively as long as the Shanghai Composite is at or above current level, i.e. around 3,000," said So, who has a year-end target of 3,200 for the index. "There is limited room to re-leverage. Demand for margin lending would be low anyway, as it takes time to mend investors' broken hearts."

 

"There will be oversold technical reprieves," Hong said. Such rallies "can give people a mirage of a new dawn -- until they give up hopes of bottom fishing."
*  *  *
Finally there is this...
*VIETNAM TO ALLOW SHORT SELLING TO BOOST TRADING OF STOCKS: NEWS
Just do not tell China.
Charts: Bloomberg