Summary
3DXPoint memory from Intel and Micron is very late. It was to have sampled in 2015. One form factor may not even sample this year.
Much about this new memory is a mystery wrapped in an enigma - or maybe several mysteries wrapped in several enigmas.
Whenever it finally appears, it's gonna be huge.
Make no mistake about it; 3DXPoint is late, very late. Since I've been asked several times why I thought it was to have sampled in 2015, let's get that out of the way right up front. Here's a quote from the Intel news release of July 28, 2015:
3D XPoint technology will sample later this year [i.e., 2015] with select customers, and Intel and Micron are developing individual products based on the technology.
Well, it didn't happen.
So besides being late, what is 3DXPoint? Intel (NASDAQ:INTC) and Micron Technology (NASDAQ:MU) own this nifty little fab in a picturesque setting in Lehi, Utah: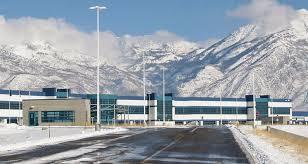 And inside that fab, the partners of IMFT - Intel Micron Flash Technology - make the most advanced computer memory in the world. 3DXPoint is the biggest breakthrough on the memory front in 25 years. To further confuse things, the partners have further branded the underlying 3DXPoint technology. Intel calls it Optane; Micron calls it QuantX. But don't worry. This is like Dodge and Plymouth with the product rolling down the same line in Lehi, Utah.
At its unveiling in July of 2015, 3DXPoint was billed as 1000x faster than NAND, 1000x more durable than NAND, and 10x more dense than DRAM. We also now know that it will be priced around 1/2 the cost of DRAM and 5x the cost of NAND. I won't even grace the speed slide with an appearance here, since the 1000x speed claim now seems to be a rather theoretical performance number: the actual physics of the chip may be that quick but busses to access it, controllers to handle it and the like slow this to actual speeds which are far less. Exactly how much faster 3DXPoint is than NAND we still don't know despite two Intel Developer Forums spent a lot of time on the subject. Faster, we do know. Oh, and it retains its memory when it's disconnected from power. That part is very much true and quite important.
So what are the partners...
More