Verizon Communications Inc. is plotting a new strategy for video as its slow-growing FiOS TV business looks increasingly like a costly relic of the cable era and out of step with the trend toward "skinny bundles" and streaming video.
When Verizon reports earnings Thursday, the results could show the smallest gain in video subscribers since FiOS launched 11 years ago. And there are signs customers could start to drop the service, said Mike McCormack, an analyst at Jefferies LLC.
"It's possible at some point in the near future that they could go negative on subscriber growth and that would be when people start to raise questions about the long-term role of the TV network," McCormack said.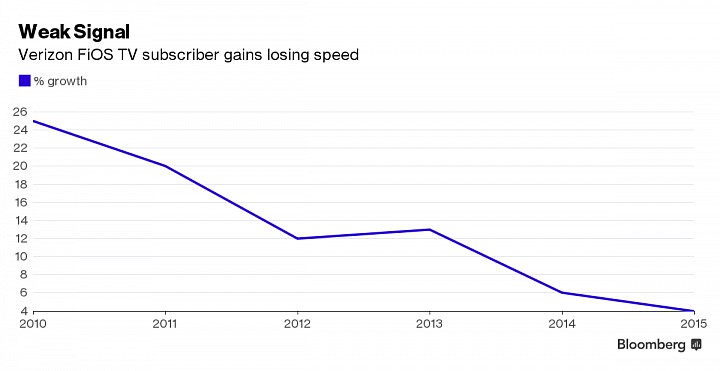 While Verizon's broadband Internet business continues to grow, the slowdown of FiOS TV highlights the pressures facing pay-TV providers as consumers migrate to online-streaming offerings like Netflix Inc. and Amazon.com Inc. and forgo cable and satellite packages all together.
This shift in the TV landscape also adds to the challenges facing the company's landline unit, which is losing phone customers and is in a pitched battle with cable operators like Comcast Corp. for Internet subscribers. Its network is costly to maintain in part because of labor costs, which is why Verizon is currently in a standoff with unions on a new contract.
For years, FiOS TV was the key component of a "triple play" bundle offering...
More