Highlights of Farmer Brothers' 4Q15 Performance Results
Farmer Brothers stock rose by 24.6%
Headquartered in Torrance, California, Farmer Brothers Company (FARM) reported financial results on September 9, 2015, for the fourth quarter and fiscal year ended June 30, 2015.
Farmers Brothers stock rose by 24.6% following the earnings announcement on September 9, 2015. The stock currently trades on the NASDAQ and closed at $26.54 on September 10, 2015.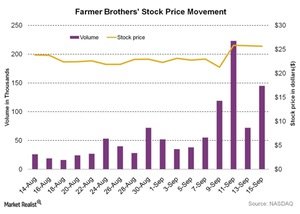 This stock has moved at a steady pace until now. However, following the company's announcement of favorable results for the fourth quarter of fiscal 2015, the shares moved up. Plus, there was a good volume of share trading compared to its regular volume.
The sudden increase in...
More