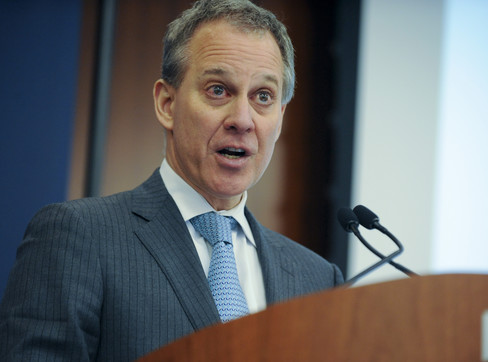 GNC Holdings Inc. reached an agreement with the New York attorney general on its Herbal Plus products, pledging to more stringently test its supplements and follow U.S. Food and Drug Administration manufacturing recommendations.
In response to state inquiries, GNC has conducted "rigorous tests" to show that its products are safe and properly labeled, according to a statement Monday. GNC also will begin performing DNA barcoding on products -- a method of confirming that supplements have the right ingredients -- and add signs to help consumers figure out what they're buying.
The accord represents a victory for New York Attorney General Eric Schneiderman, who has been trying to rein in the herbal-supplements industry -- a loosely regulated market. It also brings relief to GNC investors, who didn't want the company dragged into a protracted fight over the issue. The shares jumped 7 percent after the announcement.
The deal "successfully turns a lingering negative into a positive," Chuck Grom, an analyst at Sterne Agee Group Inc., said in a report. The move should help placate regulators, while improving consumer confidence in GNC products, said Grom, who has a buy rating on the shares.
The stock rose to $49.26 at the close in New York, the biggest one-day gain since Feb. 12. The stock is now up 4.9 percent this year.
'Consumer Fraud'
Schneiderman said at a news conference in Manhattan on Monday that the measures GNC is taking are a "very significant undertaking" which are "breaking with the pattern and practices of the industry."
The probe into supplements will continue against other retailers and manufacturers, Schneiderman said. New York may continue actions against GNC if it doesn't abide by the terms of the agreement, he said, adding that the office hasn't reached a legal determination of whether the nutrition product retailer's practices were fraudulent.
"This has nothing to do with the efficacy of the product," Schneiderman said. "This has to do with consumer...
More