Ask even a semi-informed person and they will tell you that lobbying has a direct economic relationship to a company's bottom line.
"Why would they do it otherwise? It's common sense."
Every now and then we read about how large corporations influenced policy to their benefit (e.g. GE has been famously notorious for avoiding billions of dollar in taxes). (1)
Not a bad return on investment, considering they "only" spend tens of millions on lobbying.
Lay of the "K Street" Land
Before we go any further with Wall Street, it is important to understand K Street. From 1998 to 2008, total lobbying expenditures increased from $1.45 billion to $3.30 billion, a whopping 127% increase. To put this into perspective, cumulative inflation during that period was 32% in the United States. What's so special about 2008? In many ways, we can divide recent history into two large parts: pre-2008 and post-2008. In the post-2008 era, several important events took place:
The first black president won an emotionally charged U.S. election, marking the end of the "9/11 legacy" presidency;
The financial world saw its biggest collapse since the Great Depression;
The emergence of the Tea Party had a far-reaching impact on political and lobbying strategies (details about Boeing to come);
Hundreds of thousands of large and small businesses either faltered or vanished;
The Arab Spring revolutions spread across the Middle East.
Also what is interesting is that since 2008 the official lobbying expenditure has stagnated while the number of registered lobbyists has gone down by 25%.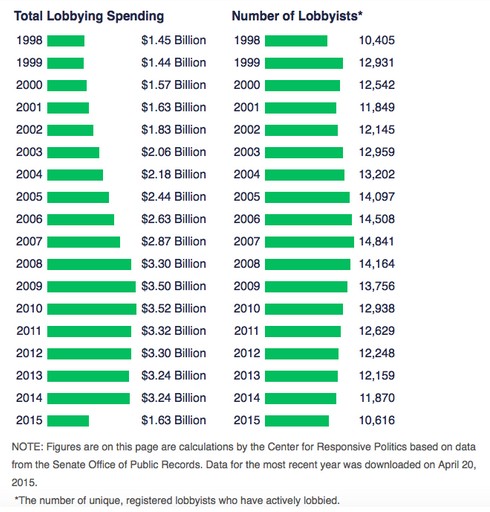 The above numbers are, of course, only true for registered lobbying figures on paper. Professor James Thurber of American University, who has studied lobbying for more than 30 years, estimates shadow lobbying expenditures to be as high as $9 billion, and the unofficial count of lobbyists to be as high as 100,000. (2)
A "Did You Know?"-worthy fact: many lobbyists are actually "revolving doors", meaning they switch between private and public jobs. Opensecrets.org documented (as of August 2015) that close to 30 current White House and more than 20 current Department of Treasury staff have a direct lobbying past from the private sector! No wonder they are so effective.
Back to Wall Street
Let's look at how some big companies spend their lobby money. At this point...
More