When former kindergarten teacher Kim Sun Sung tried to re-join South Korea's workforce after five years raising her children, she found it tough. Then 41, Kim was either told she was too old or had been out of work too long.
"It wasn't easy to find a decent job," said Kim, now 48 and working as a consultant at a Seoulprivate-study school. "I didn't want to end my life like that, with my expertise being wasted."
Park Geun Hye, the nation's first female president, is listening. Her administration has named and shamed companies including Hyundai Motor Co. for not having enough part-time jobs for women, while praising Starbucks Corp. (SBUX), Samsung Electronics Co. and Lotte Group. She's pledged to boost the participation rate of women in the workforce to 61.9 percent by 2017 from 53.5 percent in 2012, warning of a "long tunnel" of depression unless every economic lever is mobilized.
Concern South Korea's demographics will condemn it to follow Japan into years of deflation hasstalled gains in equities and driven a rally in sovereign bonds. With the country's working-age population set to shrink after 2016, according to Organisation for Economic Cooperation and Development data, barriers thrown up to women like Kim are threatening to slow growth and further swell household debt.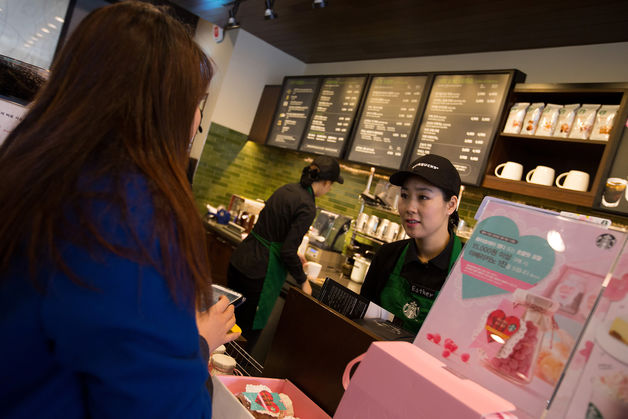 Deflation Threat
"A shrinking workforce means less tax revenue and strained public finances, and in an economy of this size that's a direct risk to the sovereign credit rating," Park Sung Wook, a Seoul-based economist at Korea Institute of Finance, said Aug. 28. "Korea needs more women to work and people need to postpone their retirement or find second jobs to generate income."
Finance Minister Choi Kyung Hwan last week warnedSouth Korea could face deflation if growth is allowed to slow further. Consumer prices rose 1.4 percent in August from a year earlier, official data showed today, less than the 1.6 percent forecast in a Bloomberg survey. Prices will increase 1.8 percent this year and 2.6 percent in 2015, a median estimate of economists surveyed by Bloomberg show. That compares with an average of 4.1 percent annual price growth since 1984.
The benchmark Kospi index returned 4.9 percent since the end of 2012, compared with 47.9 percent for Standard & Poor's 500 Index and 34 percent for the MSCI All-Country World Index.
Starbucks, Samsung
Korean sovereign bonds returned 6.7 percent versus 0.6 percent for all maturity U.S. government notes over the same period, Bank of America Merrill Lynch indexes show. The yield premium over U.S. similar-maturity treasuries fell to 48.2 basis points on July 30, the least since July 2007.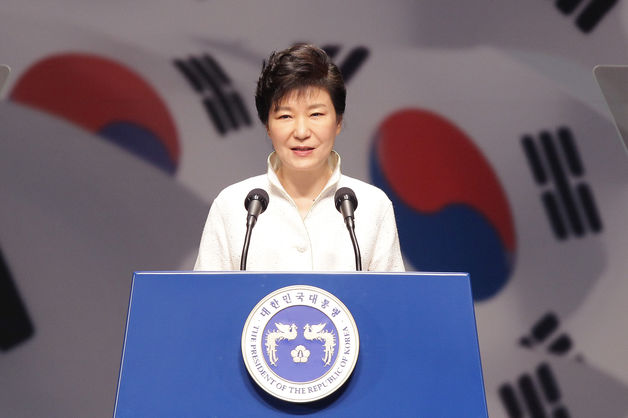 Ten-year government bond yields have risen 5 basis points since July 24, when the government unveiled an 11.7 trillion won ($11.5 billion) spending plan and pledged an expansionary budget for 2015. The Bank of Korea lowered the seven-day repurchase rate to 2.25 percent from 2.5 percent on Aug. 14.
Park, aiming to create 1.65 million new jobs for women by February 2018, the end of her term, has said companies with a female share of the workforce less than 70 percent of their industry's average for three consecutive years may be publicly named and shamed. Six of her ministries, in a joint statement in February, said the government will encourage flexible working hours, enhance childcare programs and improve training for mothers seeking to re-enter the work force.
Starbucks Coffee Korea Co. last year rehired 100 mothers who quit for childcare reasons, while Cho Yoon Sun, named President Park's senior adviser for political affairs in June, identified Hyundai as one company that should be looking to the examples set by Samsung Electronics and Lotte in hiring and promoting women.
Unemployment Rate
Japanese Prime Minister Shinzo Abe has made promoting women a centerpiece of his economic policy as well, planning to raise their presence in parliament and have 30 percent of management positions filled by females by 2020. Like Korea, Japan, Asia's second-biggest economy, also faces an aging and shrinking labor force.
While Korea has maintained its unemployment rate at an average of below 4 percent -- among the least for OECD countries -- as gross domestic product growth slowed, the figures mask the lack of participation by women and a growing trend of temporary employment, according to a working paperpublished by the Bank of Korea last month.
Willingness to Spend
Incentives could "increase female participation rates by about 8 percentage points," the paper's authors, led by the International Monetary Fund's Mai Dao, concluded.
Greater labor market reform "should boost employment in Korea, in turn supporting household incomes, confidence and willingness to spend," said Matthew Circosta, an economist at Moody's Analytics, a division of Moody's Corp., in Sydney. "A stronger labor market, alongside lower rates, gives households the capacity to reduce debt burdens."
An OECD report submitted to President Park last year estimated South Korea could add about 1 percentage point to GDP growth if it had equal employment. The economy grew 3 percent last year. Korea's 2012 female labor participation rate of 53.5 percent compares with an OECD average of 57 percent and a Group of 7 average of 61.7 percent, according to the organization's Employment Outlook 2013, published in July that year.
'Biggest Risk'
"The shrinking workforce is the biggest risk to growth in the mid-to-long run," Kim Kyung Soo, a former Bank of Korea economist and now professor of economics at Seoul-based Sungkyunkwan University said by phone Aug. 28. "The only countermeasure to that risk is bringing more women into workforce."
Dual-income families may also be better able to manage their finances. Households owed 1,040 trillion won at the end of June, or about $21,000 for every man, woman and child in the country. That risks becoming a drag on domestic demand if interest rates rise, according to Kim Eng Tan, a senior director for sovereign ratings at Standard & Poor's in Singapore.
"The idea is to liberalize and deregulate services industries that can quickly hire more female and younger workers," Wai Ho Leong, a Singapore-based economist at Barclays Plc, said on Aug. 25. "Among these industries are tourism, health care, education and software, which are also more sought after by young people than factories."
Lotte, Amorepacific
If Park's policies work, investors would be wise to consider buying stocks and bonds in consumer goods companies, according to Moon Hong Cheol, a fixed-income strategist at Dongbu Securities Co.
This could "be positive for securities sold by department stores or cosmetics companies," Moon said by phone on Sept. 1. If the measures actually do boost economic growth, he said investors should also "stay away from long-term bonds because it will make long-term government bond yields rise."
Lotte Shopping Co.'s $400 million of 3.375 percent debentures were trading at 103.652 cents on the dollar compared with 102.286 cents at the start of the year, Bloomberg-compiled prices show. Lotte Shopping is the retail arm of Lotte Group.
Notes of Samsung Electronics, maker of the Galaxy phone, due 2017 and sold to investors in April 2012 are trading at 100.703 cents, up from 99.767 cents on Dec. 31. Shares in skin care and perfume maker Amorepacific Corp. (090430) have more than doubled since December. The stock gained 5.8 percent as of 12:57 p.m. in Seoul today.
"South Korea's demographics follow Japanese demographics almost identically with a 21-year lag," said David Munro, the chief executive of Volatility Research & Trading Pte in Singapore, which adviseshedge funds on demographics. "As people age, the proportion of domestic savings invested in domestic equities decreases and increases in bonds."
Private school teacher Kim says the view that a successful South Korean woman is a good housewife is "old-fashioned" and stay-at-home moms put too much pressure on their kids.
"Women must have their own career life not only to improve family finances and the national economy, but also for the sake of their children," she said.