Crazy week (for a short week) with epic moves in FX and commodity markets. Treasuries kinda quiet and we suspect for many, stocks disappointing given the trillion dollars of awesomeness from Draghi...
Release The Draghi...
Or perhaps - this better summed up the carnage of the week...
Stocks ended the week higher led by Nasdaq and Trannies but we closed very weak as we suspect Greek election fears weighed on risk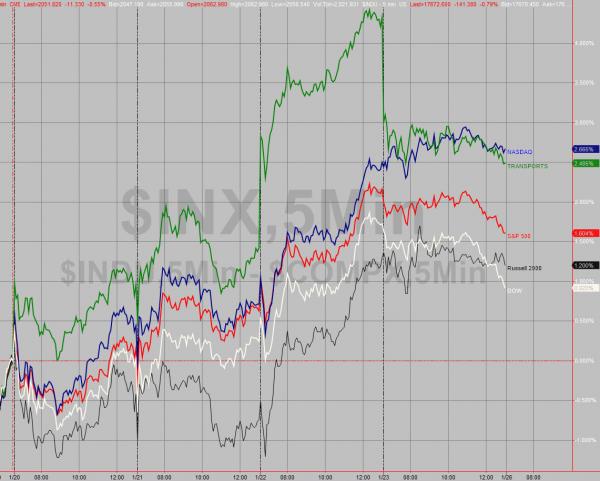 But from ECBQE, US equities have given plenty back today... It's time for ECBQE2!!!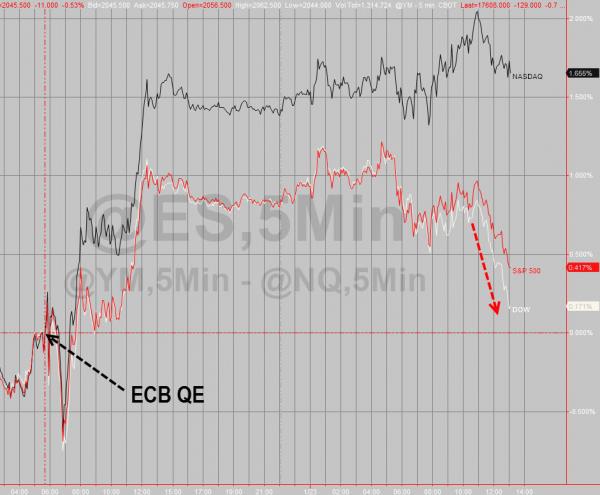 Benoit Coeure Is No Jim Bullard!!!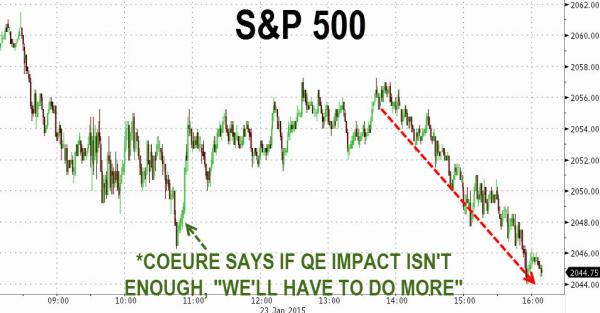 Leaving only The Nasdaq green for 2015...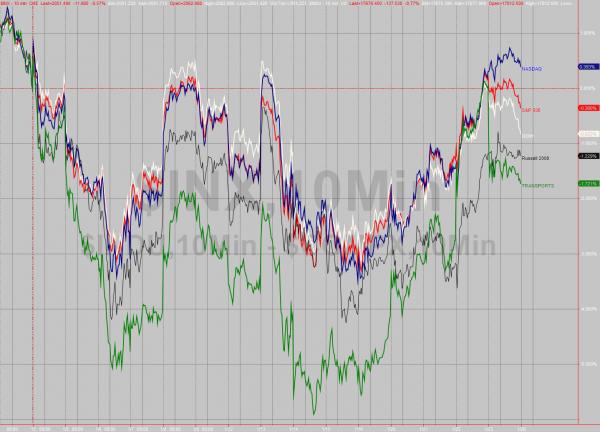 The USD soared on the week as CAD, Swissy, and EUR all dumped...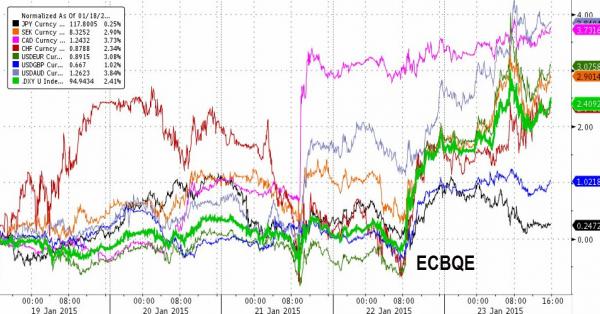 Treasury yields ended the week lower with 30Y leading (down 7.5bps) and flattening dramatically...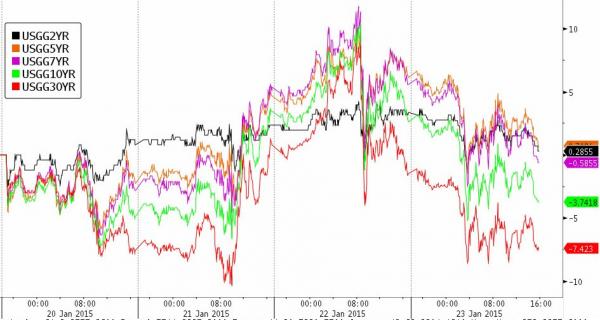 Gold (and bond yields) were smashed lower at 10amET (just as EURCHF surged... cue mysterious music)...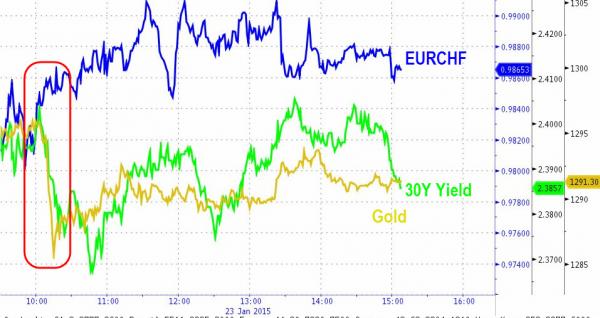 But gold and silver retraced most of that plunge... leaving them green on the week...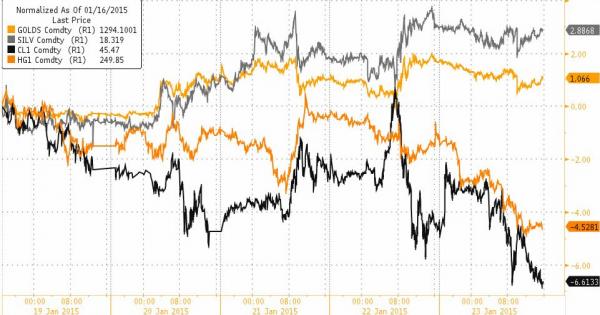 But after ECBQE it was copper and crude that were crushed...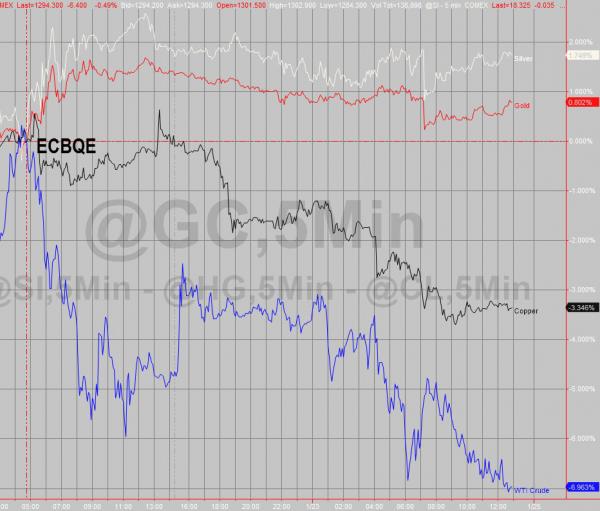 With copper dumping after regaining China crash losses...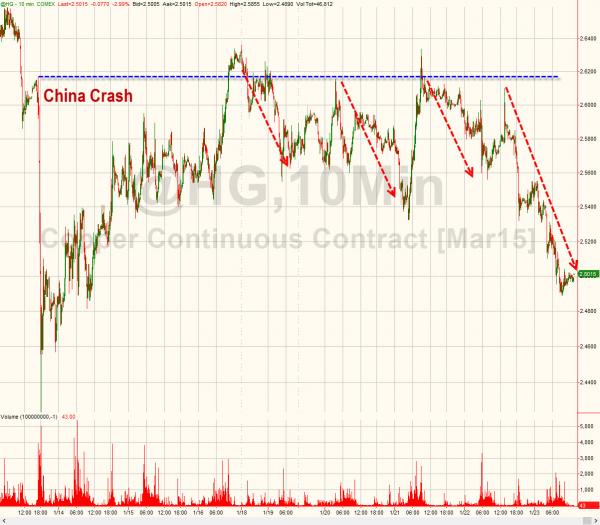 UPS spoiled the "everything is awesome" narrative, warning about US domestic weakness and not greatly benefitting from low fuel prices...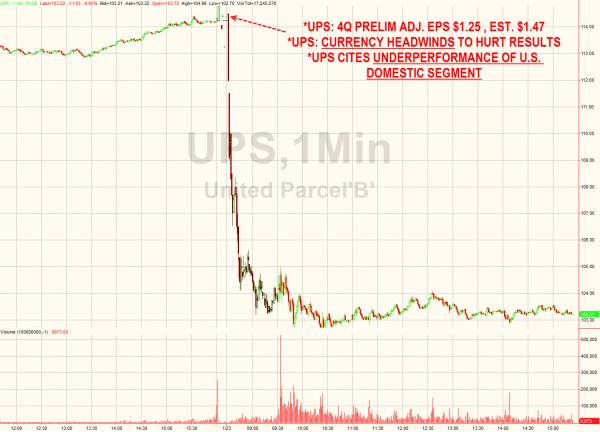 *  *  *
SUMMING UP THE WEEK
FX was chaos...
EURUSD dropped around 3% (EUR weakness) down 6th week in a row (23 of last 30 weeks), worst since July 2012, 5.1% swing from high to low is biggest drop since May 2010 to its lowest since May 2003.
Swissy dropped 2.25% on the week (Swiss Franc weakness), worst week since Jan 2013 but still up around 16% over 2 weeks
Loonie crashed 3.65% worst week for Canadian Dollar since September 2011
The US Dollar Index - up 2.5% - had its best week since September 2011 up 9 of the last 11 weeks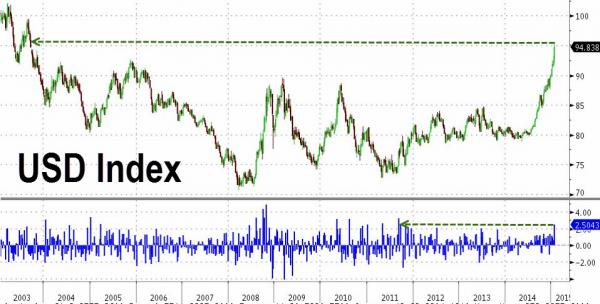 Commodities very also volatile...
Gold up 3rd week in a row, up over 12% (low to high) best 3-week swing since August 2011
Silver up 3% this week, 3rd week in a row, 19% is best 3 week swing since Aug 2013
WTI Crude Oil down 15th of last 17 weeks dropping over 7% this week to near new cycle lows (4th worst week since June 2012)
Copper worst week since Nov 2014, down 5 of last 6 weeks, lowest close since July 2009 (back below 2.50), falling after recovering the China crash drop.
Treasuries mixed
30Y Futures to new record high close price (up 4th week in a row), best 4 week run since April 2013 (down 7bps on the short week)
2Y and 5Y yield closed up 1bps on the week
Stocks had their best week in 2015 overall...
Trannies up 2.5% - best week since October 2014
Nasdaq up 2.7% - best week since October 2014
Leaving Silver still 2015's winner followed by gold with oil laggard... stocks doing slightly better than last year at this time, PMs doing a lot better and The Dollar massively better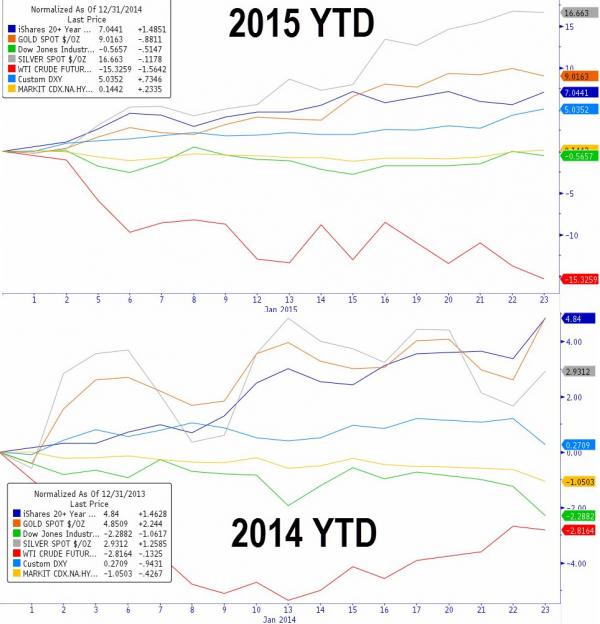 Charts: Bloomberg