Rocket Fuel is a Demand-Side Platform that helps advertisers and brands to create and buy advertising placements. Rocket Fuel also acquired a DMP platform in September 2014, so the company provides the wide range of marketing campaign and target audience analysis. The company's stock lost almost 45% over the last three months. 
<!== INSTRUMENT %% %1440% ==!>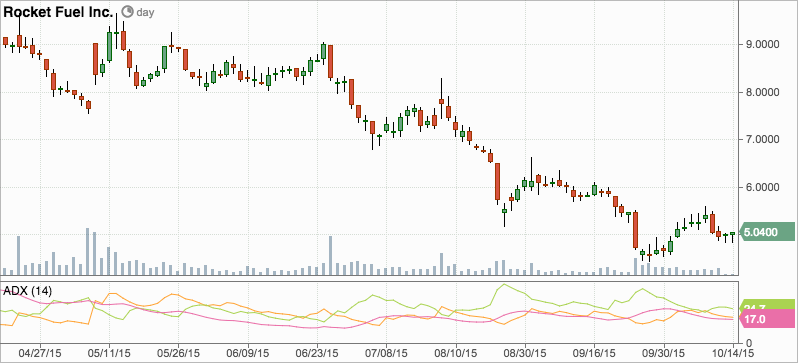 Let's check the financial and operating metrics in order to understand if the stock price has any upside opportunities. 
Number of customers / advertisers
Number of customers is growing. However, as of December 2014 the company had around 1,636 active advertisers, as of June 2015 just 1,592 active advertisers. Rocket Fuel defines the number of active advertisers from whom Rocket Fuel recognized revenue in the last three months. Advertising industry shows the highest activity right in the 4th quarter, so we need to compare the number of advertisers as of June 2015 and June 2014. As of June 2014 the company had 1,444 active advertisers, so we see 10% increase in number of customers. 
Average revenue per client / average turnover per client
Turnover is the total sum of advertising campaign, revenue is the actual amount of money that the platform (Rocket Fuel) gets for this campaign. Companies usually reports the turnover as revenue, but it creates some level of misunderstanding. The company increased average turnover per client from around $199K in 2012 to $250K in 2014. As of June 2015 the company reached the $141K in average turnover. I think that the company is going to increase this metric significantly by the end of this year. Average revenue per client increased as well from $104K in 2012 to $144K in 2014. As of June the company got $81K in revenue per each client, so we can see the significant increase of ARPA by the end of this year. 
Sales and marketing expenses
The company increased its customer acquisition cost from $121K in 2013 to $355K in 2014 and spent more than $397K per each new client during the Q2 2015. However, the company significantly decreased the sales and marketing expenses as % of revenue - from 73% in 2012 to 62% in 2014. As of March 2015 sales and marketing expenses were around 73% of revenue, as of June 2015 - 65% already. However, it's still greater than Q1 and Q2 2014 results, so I think that the company will have an increase in marketing and sales expenses as % of revenue. 
I think that the company performs not so bad, especially if we compare on quarter to quarter basis. The company is increasing its costs, however, I think that the company is able to boost its sales in the future. At the moment advertising market is highly competitive, Rocket Fuel is one of the leading DSP on the market. I recommend to keep Rocket Fuel in mind for future potential investments, but at the moment it can be tricky.