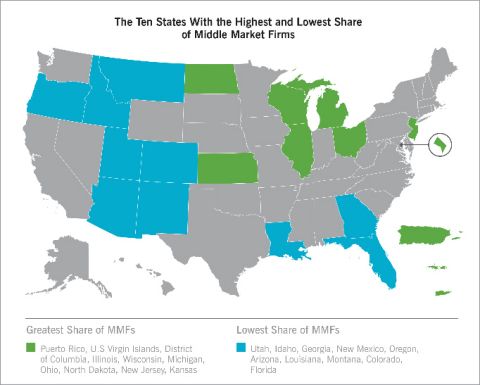 NEW YORK--(BUSINESS WIRE)--
Middle market firms are outpacing their smaller and larger counterparts when it comes to growth in number of firms, employment, and revenue, according to the Middle Market Power Index from American Express (AXP) and Dun & Bradstreet (DNB). The seventh report in the Middle Market Power Index series analyzes the characteristics and economic impact of middle market enterprises—defined as businesses generating between $10 million and $1 billion in revenues—using Dun & Bradstreet's proprietary database of commercially active1 U.S. firms, over the past six years.
This Smart News Release features multimedia. View the full release here: http://www.businesswire.com/news/home/20170815005287/en/
The latest report finds that middle market firms substantially improved the nation's economic health between 2011 and 2017. While middle market companies account for less than 1% of all commercially-active firms, they experienced the greatest growth in overall numbers (83.9%), employment (103.3%) and revenue (99.9%) since 2011.
Currently, middle market firms employ more than one in four U.S. workers (27.2%) and are responsible for much of the job growth in recent years. Of the 51.8 million new jobs that were created since 2011, 26.8 million (or 51.7%) were created by middle market firms...
More