Western Digital Corp WDC breathed a sigh of relief after a San Francisco County Superior Court judge recently ruled that Toshiba Corp must allow the U.S.-based company's employees access to databases and chip samples of flash memory chip factories in Japan. Notably, Western Digital's division SanDisk and Toshiba jointly runs the flash memory operations in Japan.

Per Reuters, the temporary ruling will now enable the U.S. storage provider to access the databases and chip samples, which Toshiba had blocked following a row over the divestiture of its stake in the jointly-managed NAND flash memory units.

According to Toshiba, the time frame of accessibility is till Jul 28, the date of next hearing. The Japanese conglomerate plans to appeal the current ruling.

Western Digital share price increased 2.78% to close at $91.75 on Jul 11. Despite the recent uncertainties over the fate of the joint venture (JV) with Toshiba, the stock has returned 35% on a year-to-date basis, much better than S&P 500's gain of 8.5%.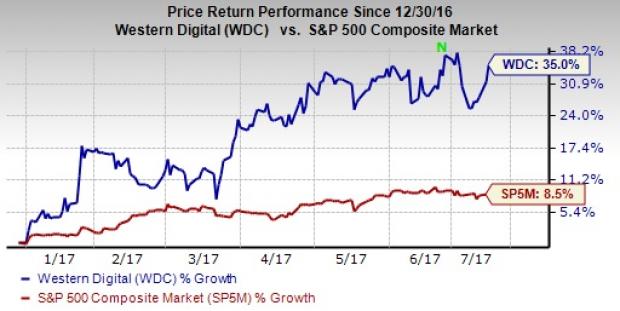 Western Digital – Toshiba: Friends turned Foes

Western Digital dragged Toshiba into court after the Japanese conglomerate refused to entertain its arguments regarding the divestiture of the jointly run flash memory unit.

Post Toshiba's denial, Western Digital evoked an arbitration clause in the agreement. Moreover, the company also sued Toshiba in the San Francisco County Superior Court asking for an injunction to stall the proposed transaction. Per Reuters, the injunction related hearing is set for Jul 14.

Toshiba retaliated by filing a lawsuit at the Tokyo District Court against its JV partner, demanding 120 billion Yen ($1.1 billion) in damages. Per Bloomberg, Toshiba's claim for damages was primarily due to the loss of information, as well as Western Digital's interference in the proposed divestiture.

At the same time, in a bid to protect its trade secrets, Toshiba started blocking Western Digital's access to information in the three NAND flash-memory JVs.

Toshiba Restarts Negotiations

According to Reuters, Toshiba has restarted discussions related to the chip-unit sell with Western Digital, Foxconn as well as the preferred Bain Capital led consortium, which is supported by the Japan Government.

This is positive news for the battered company, which is in dire need to raise capital (by the end of Mar 2018) to remain as a listed entity. Meanwhile, Toshiba is set to be demoted from Japan's benchmark Nikkei 225 Index next month, according to the Street, which quoted the exchange operator.

Notably, Toshiba missed its self-imposed Jun 28 deadline to complete the proposed sale to the preferred bidder Bain Capital led consortium. The company cited differences of opinion among the consortium members behind the stalled negotiations.

According to Reuters, apparently, some of the board members have raised objections about technology leaks to South Korean chip-maker SK Hynix, which is one of the financiers of the Bain consortium. Western Digital has also opposed SK Hynix's participation in the bidding process.

Western Digital: The Preferred Candidate?

Per Reuters, SK Hynix is significantly interested in acquiring an equity stake in the NAND unit once the deal is complete.

However, Japan government – Toshiba's reservations over the involvement of SK Hynix now makes Western Digital the front runner to grab the prized chip unit. Although Foxconn is also reportedly in the fray, the company's significant presence in China doesn't make it a serious contender.

Meanwhile, reportedly, consortium members – Innovation Network Corp of Japan (INCJ) and Development Bank of Japan (DBJ) – have shown eagerness to back Western Digital, if a deal transpires.

Western Digital is very keen to own the chip unit as it will significantly improve its competitive position in the NAND flash market. The acquisition will also provide it a competitive edge over close rivals like Seagate STX and NetApp NTAP.

Western Digital Corporation Revenue (TTM)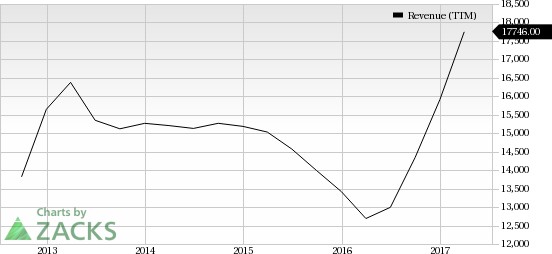 Western Digital Corporation Revenue (TTM) | Western Digital Corporation Quote
Per Reuters, in a recent legal filing, Western Digital claimed that it has made six proposals since February for the chip unit. The latest in Jun 27 (Western Digital along with private-equity firm KKR) matched the best offer reportedly submitted by the Bain Capital led consortium.

Zacks Rank & Key Pick

Western Digital carries a Zacks Rank #4 (Sell). Netlist NLST sporting a Zacks Rank #1 (Strong Buy) is a top-ranked stock worth watching in the same sector. You can see the complete list of today's Zacks #1 Rank stocks here.

Long-term earnings growth for Netlist is currently pegged at 20%.
More Stock News: 8 Companies Verge on Apple-Like Run
Did you miss Apple's 9X stock explosion after they launched their iPhone in 2007? Now 2017 looks to be a pivotal year to get in on another emerging technology expected to rock the market. Demand could soar from almost nothing to $42 billion by 2025. Reports suggest it could save 10 million lives per decade which could in turn save $200 billion in U.S. healthcare costs.
A bonus Zacks Special Report names this breakthrough and the 8 best stocks to exploit it. Like Apple in 2007, these companies are already strong and coiling for potential mega-gains. Click to see them right now >>
Want the latest recommendations from Zacks Investment Research? Today, you can download 7 Best Stocks for the Next 30 Days.
Click to get this free report
Western Digital Corporation (WDC): Free Stock Analysis Report
Seagate Technology PLC (STX): Free Stock Analysis Report
NetApp, Inc. (NTAP): Free Stock Analysis Report
Netlist, Inc. (NLST): Free Stock Analysis Report
To read this article on Zacks.com click here.
Zacks Investment Research