Back in January, the FOMC surprised many when in its statement is noted that in addition to financial it was also keeping tabs on "international developments" making many wonder just whose central bank the Fed is.
This was compounded yesterday following the release of the FOMC minutes, in which the Fed said that "Many participants continued to judge that a deterioration in the foreign economic situation could pose downside risks to the outlook for U.S. economic growth" adding that "China was noted as a factor restraining economic expansion in a number of countries, and several continuing risks to the international economic outlook were cited, including global disinflationary pressure, tensions in the Middle East and Ukraine, and financial uncertainty in Greece."
Why Yellen's obsession with all things international? The answer may lie in Yellen's 2014 calendar, which the WSJ has parsed and found that of her 950 meetings from February to December (one wonders just when does the Fed chair actually do work outside of meeting rooms of course), the Fed chair spent more time conversing with foreign officials (68 meetings) than with members of the White House (51 meetings).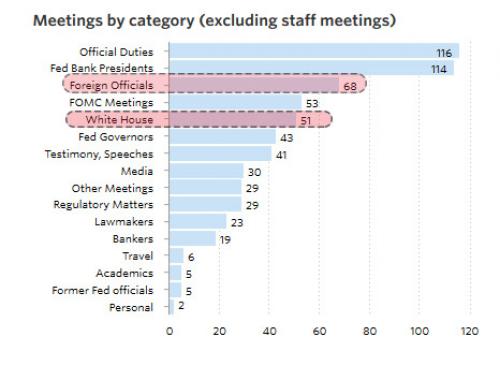 The chart below breaks down the total number and the running average of meeting held by Yellen in the past year. Of these the most important without doubt are her 19 meetings with various bankers including Blankfein and Dimon. The only silver lining: the academic wasted only 5 meetings on other academics. Far more important was the media, which saw Yellen dedicate some 30 meetings of her time. Because in the end it is all about the "narrative."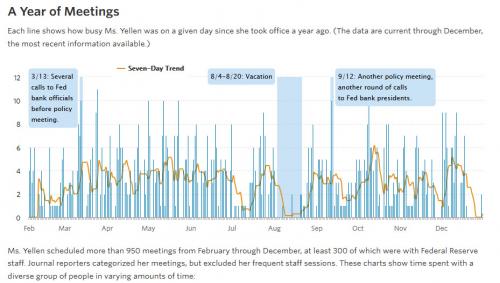 Finally, here is the full breakdown by day: