This week's choices cover a wide range – different sectors, market caps and risk-reward.
Felix: It's been a long year for Hertz (HTZ). This stock has been on a steep decline for nine months, but there's a good reason to like it in the long run. The chart shows why:
(Click on image to enlarge)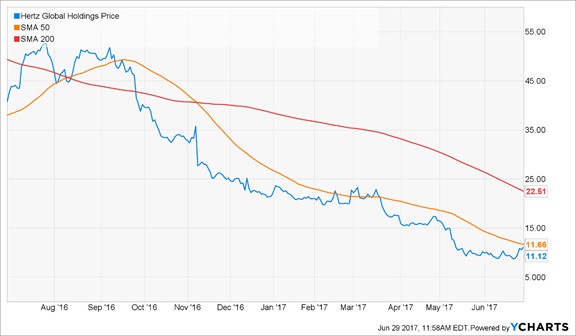 J: It requires a lot of imagination to see an upside-down-head and shoulders in that chart! I suggest you read my post from earlier this week – The Limits of Technical Analysis. The
had a spirited debate in the comments. There are some examples of chart-reading like yours.
F: I suppose that you will next show a chart from a fundamental analyst, like Chuck Carnevale.
J: Of course. His tools are the best! Anyone serious about buying a stock should begin with a look at Chuck's analysis.
J: You can see the huge decline in earnings both last year and this year. The soft market for used cars, which they depend upon to turn over their fleet, is a problem. The rise of Uber is another. Many are choosing the inexpensive ride service rather than a car rental.
F: That may be the reason for the decline, which I do not care about. I am focused on the rebound.
J: Are you paying any attention to the SEC?
F: Why would I do that?
J: Your purchase of the stock at nine and change was within hours of the company's announcement of an agreement with Apple. The SEC monitors "insider trading." The stock spiked $2.
F: You mean the story about Apple leasing six (count 'em, six) cars for testing?
J: That might not impress you, but rightly or wrongly, the stock soared after that news.
F: Sometimes the prior chart action provides a clue. That was the case here. I had no inside information, but some other buyers might have. That is often the reason behind technical buy signals.
J: Would you still buy the stock now — after the instant gain? Most traders would be selling, and moving on to the next trade.
F: At the moment, the stock still meets my buying criteria.
J: How did you do today?
F: My portfolio was unchanged – not bad on a tough day.
J: How did you do so well?
F: I hold some energy names, which did well, and little in technology.
J: That is not...
More