The risk-reward for this investment has never been so favorable.
Over 80% return under a favorable tax outcome, with a modest upside even under a negative one.
Investing purely in the Operating Business (net of both Alibaba and Yahoo! Japan) can drive phenomenal returns once both are spun off (a longer-term opportunity).
The current undervaluation of Yahoo! completely discounts the numerous long-term measures that can be undertaken.
In this article, I want to outline why the Yahoo! RemainCo (or "Yahoo! stub" - essentially (NASDAQ:YHOO) net of its stake in Alibaba (NYSE:BABA)) is a compelling long-term investment opportunity. To do so, I will provide a background for those unfamiliar with the situation, explain why this mispricing exists, and show that this dramatic undervaluation is unmerited. The background follows below.
Yahoo! initially invested in Alibaba in 2005, sold a portion of its holdings during the IPO, and currently owns a 15% stake valued at roughly $25B. Earlier in the year, it announced plans to monetize its stake as part of a tax-free spinoff and sought a Private Letter Ruling (PLR) from the IRS to ensure that the spinoff would be tax-free. However, on September 8, it was revealed that the IRS had declined the company's request for a PLR. This means that the IRS is not immediately guaranteeing a tax-free status - it does not indicate that an unfavorable tax outcome is certain. The stock has fallen precipitously and the current price reflects a fully-taxed BABA stake and a discounted value for the remaining assets the company owns. The board has recently authorized the spinoff and evidently feels that the chances for a tax-free divestiture are high.
The current price offers a compelling investment opportunity in the RemainCo, which one can "create" by shorting Alibaba and going long Yahoo! This allows one to hedge exposure to BABA, secure modest upside if the BABA stake is taxed, or potentially tremendous upside if Yahoo! can divest BABA tax-free. I believe the chances for a tax-free divestiture are high. And given that the spinoff is expected to close in 2H15, expect this to be a very low-risk, high-reward opportunity within a relatively short timeframe. Note that it will likely take some time for the market to properly value the operating business. But the benefits of a tax-free divestiture will be realized immediately. Moreover, the full potential of this investment will be realized once Yahoo! Japan is spun off as well (which is likely to occur in 2H 2016 at the earliest). I recommend shorting 0.265 BABA for every share of YHOO long to create the RemainCo at approximately $14. I think it's conservatively worth $16 per share even under a worst-case tax scenario, and $26 in a tax-free scenario.
Reasons for Mispricing
The principal reason that the market currently undervalues the RemainCo is that the BABA stake makes up a significant majority of Yahoo!'s value (YHOO has essentially served as a tracker stock for BABA, see image). This has caused investors to ignore YHOO's other assets. Negative news regarding YHOO's tax-free distribution on September 8th also caused panic-selling among event-driven investors.
Alibaba: Blue
Yahoo!: Orange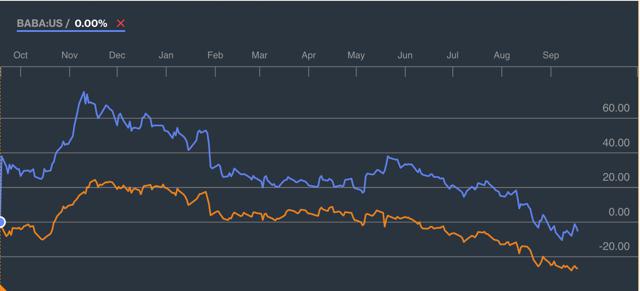 Poor performance at the operating business (search and display ads, the "OpCo") also has dampened investor enthusiasm and led to an undervaluation of the Yahoo! RemainCo. It's important to recognize that this is a business with close to $6Bn in net cash and over $1Bn in expected EBITDA for 2015 (which includes 100% margin royalty revenues from Yahoo! Japan). YHOO's current price also assumes zero possibility for future improvements in the operating business. There are several opportunities available to improve the operating business and stem the revenue declines (which will be discussed later).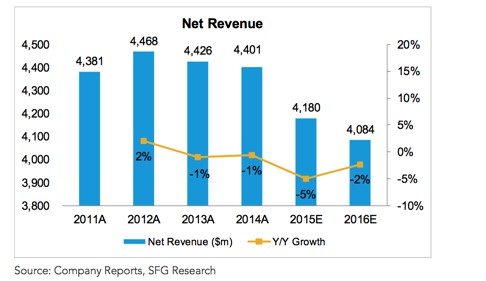 Net revenue has been pressured, but is showing signs of stabilizing (Source: Susquehanna).
The Yahoo! Operating Business ("OpCo")
In this section, I will attempt to detail why the RemainCo is a compelling investment opportunity despite the considerable skepticism surrounding Yahoo!'s ability to survive as an independent company. It's very clear that the Yahoo! Operating Business has been struggling, but the fast-growing "MaVeNS" (Mobile, Video, Native Advertising and Social) has offset some of the declines on the desktop-side. Revenues are showing sign of bottoming, and various sell-side analysts have projected modest growth in the quarters to come. I also believe management has several tools available to improve profitability. Adjusting its cost structure to bring EBITDA/employee closer to AOL's (NYSE:AOL) and a switch from Bing to Google (NASDAQ:GOOG)...
More