Earnings season can be a difficult time to trade for most investors. Many traders are searching for the quick 10 percent gain but more often than not, they are confronted with huge losses. Companies today are forecast to report better-than-expected earnings but also issue strong forward guidance to trigger positive price movement.
More from Estimize
Buy Nike, Sell PVH? Forcerank's Take on Apparel Retailers this Week
That doesn't mean it is impossible to get the best of the proverbial earnings game. Three companies with a precedent of popping on results are scheduled to report earnings this Thursday. They include Smith & Wesson, Broadcom Limited and Ambarella. These stocks have both short-term catalysts and long-term potential that have propelled share prices in recent quarters.
Year-to-date stock performance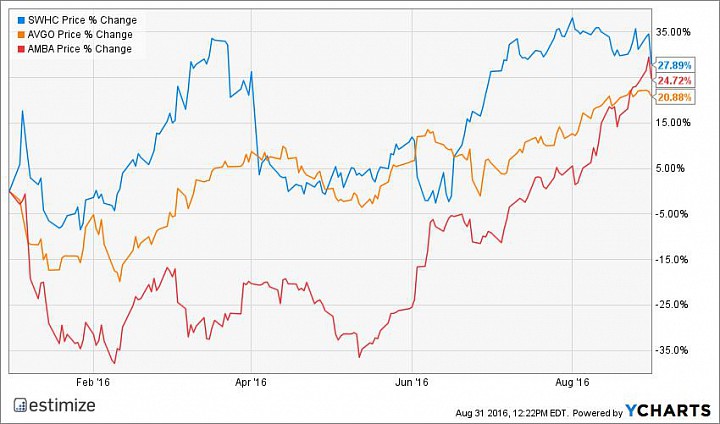 Smith & Wesson is the one of the largest manufacturers of firearms in the United States. Quarterly results have only recently started to reflect its industry lead. The company topped expectations last quarter by a wide margin, extending its streak of beats and positive comparisons to five quarters.
Firearms have thrived in the current environment, in which the sitting Democratic president advocates for gun control. Despite a Republican-held Congress that has yielded little ground, the call for stricter regulations has led to increased gun and ammunition sales with the fear that purchasing a firearm won't be as simple down the road.
This ongoing trend has propelled background checks in recent months to new heights. The FBI NCIS reported nearly 2.2 million firearm background checks in the month of July, a 37.5...
More