US dollar is gaining strength today against Japanese Yen as investors are locking gains ahead of the series of economic data releasing this week. Earlier Fed chairwoman stated that the interest rate increase may come earlier than scheduled if the economy continues to show growth. Dollar strengthened after the upbeat data released last week increasing expectations among investors that Fed might increase interest rates sooner.
A separate report from Japan showed that the unemployment rate increased to 3.7% which economists were forecasting to remain same at 3.5%. Household spending fell by 3% missing the expected reading of 3.8% on year basis. The retail sales also declined by .6% on year over year basis more than the economist's expected decline of .5%.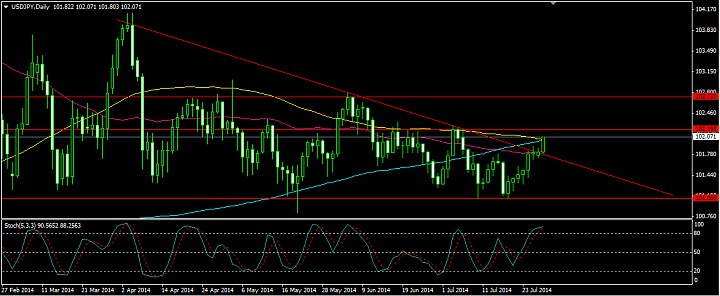 USDJPY : Daily Chart
On the daily chart, the pair today broke out from the falling resistance trend line of the descending triangle signaling a downtrend reversal to uptrend. However there is a contrary movement among moving averages. The 100 day SMA is just trying to cross below the 200 day SMA which might signal a downtrend continuation. Also there is a resistance at 102.19 from which the pair might decline. So the gains seems limited. If the pair breaks this resistance we might see the pair rises to 102.73.