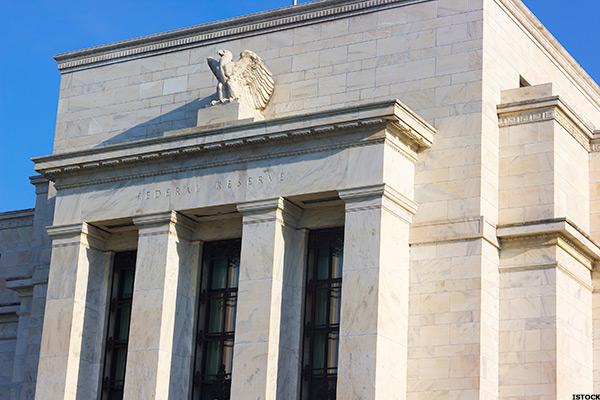 The Justice Department, Federal Trade Commission and Treasury Department have made splashy headlines of late, taking actions to block mega-deals. But, out of the spotlight, one regulatory body has quietly started moving in the other direction.
The Federal Reserve recently has begun blessing a growing number of bank mergers, particularly when it comes to regional mid-size banks bulking up through acquisitions. And while mergers among the largest six U.S. banks seems out of the question for now, other types of deals are being approved by the central bank.
"As long as a proposed merger does not create new systemic risks, regulators are open to approving deals," said Brian Gardner, director of Washington research at Keefe, Bruyette & Woods. Gardner specializes in the intersection of politics and financial services regulation.
The statistics back up this assertion. According to a Federal Reserve semi-annual report on banking application activity, the central bank approved 279 bank deals in 2015, up from 248 in 2014 and 190 in 2013. In addition, there were only 21 bank deals withdrawn in 2015, down from 25 in 2014 and 40 in 2013.
Must Read: Big Business vs. Big Government
This comes in contrast to the rest of the federal government. Using data from the Federal Trade Commission and The Deal, a subsidiary of TheStreet.com, TheStreet has discovered a pattern of increased regulatory actions challenging mergers that dates back to the Reagan administration. Under President Obama, the FTC, DOJ and other regulatory bodies have challenged and blocked a higher proportion of U.S. deals than ever before. At the same time, deals are getting bigger and more complicated. Call it "Big Business vs. Big Government."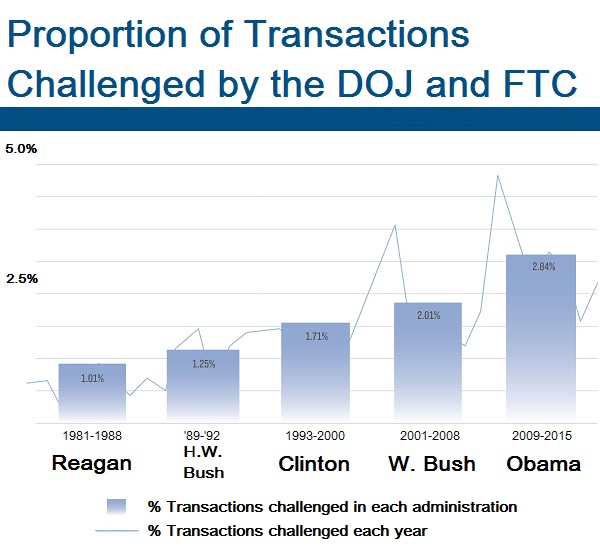 But in the case of banks, it's much more confusing. The era of "too big to fail" has also, paradoxically, become the era of "too small to succeed."
While most bank deals involved smaller mergers, a growing number have involved larger deals. A number of the approved deals involve smaller so-called "Systemically Important Financial Institutions," or SIFIs, which are banks above $50 billion in assets that regulators subject to tougher capital and liquidity rules as part of their efforts to limit economic fallout from their collapse.
One deal, CIT Group's (CIT - Get Report) $3.5 billion acquisition of OneWest Bank last year, created a SIFI because the combined business collectively controlled over $50 billion in assets. The combination was criticized by some consumer groups in...
More