The NFP report was mixed as August and June stand up as decent months (averaging 170K jobs per month), but July is the outlier with a much weaker 104K. It had been previously reported at 164K. Therefore, looking at the 3 months in total, its 1 weak month versus 2 decent months, and so the consensus seems to be forming that the Fed will go ahead with some version of "light tapering" in September.

Lets look at the report in a bit more detail: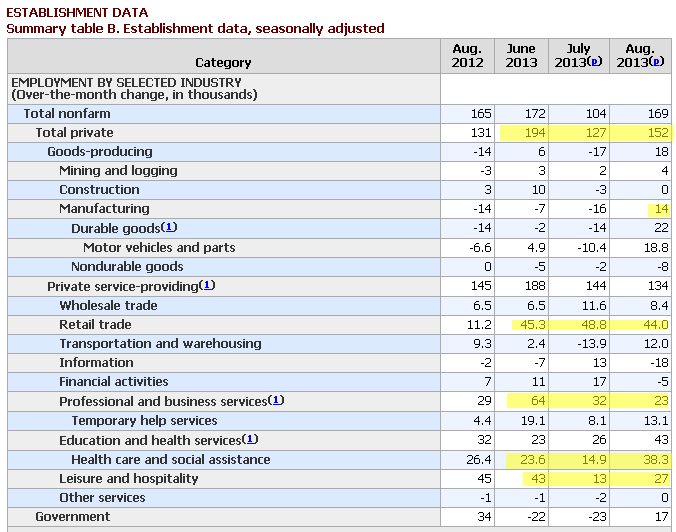 August saw government not be a drag on jobs actually adding 17K.
Retail, had a strong 3rd month, adding 44K, keeping pace with its recent performance.
Professional and Business Services was up 23K, which is fair, but the pace has been weakening over the last 3 months in this sector..
Health Care, posting a strong month with 38K created.
And, last but not least, Manufacturing was up 14K (beating forecast of +5K), thanks to strong Motor Vehicles (+18.8K) job growth.

Hours Worked and Earnings Rise

Hours and wages both increase on the month, climbing 0.4% and 0.6% respectively. 

"Gains in earnings and hours worked were a bright spot in today's report. Average hourly earnings climbed by 0.2 percent to $24.05 in August from the prior month. They increased 2.2 percent over the past 12 months, the most since July 2011. The average work week for all workers rose by six minutes to 34.5 hours."
Not good enough? : The average hourly wage rose a nickel in August. At 2.2% above its year-ago level, wages and household budgets are barely keeping pace with inflation. A spike in gasoline prices, triggered by the Syria situation, could put a dent in consumer spending. 
- Nick