The USD/JPY has been an important pair to monitor this week, as much of the speculation around Fed tapering can be read from its price action. The end of last week and the beginning of this week was dominated by the poor NFP report and the possibility that the FOMC may slow its tapering schedule, a development that harmed the USD. However, the market, after seeing some further incoming data including better than expected retail sales and manufacturing data (Empire Index), as well as digested the fact that the December data was likely influenced by poor weather, has gotten back to buying the USD against the JPY.
<!== INSTRUMENT %% %1440% ==!>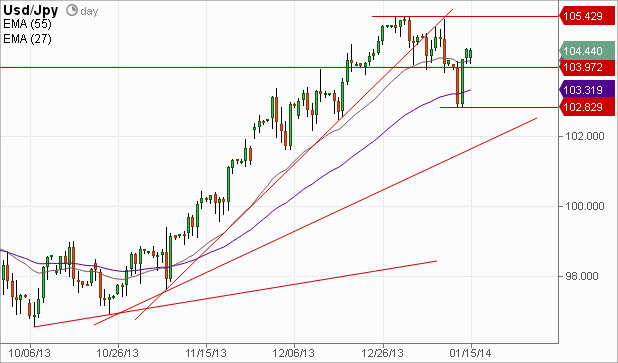 As a result, the pair put in a "V-shaped" bottom to its decline, and in an important signal for me, managed to push and hold above the 104 level - a level that played the role of key support the last 2 weeks.

To me this says that the USD/JPY bulls are back in control and that the rally seen throughout Oct-Dec may be set to resume.

The decline from 104.40 to 102.85 then was simply a controlled correction, and an opportunity for longs to re-load.

The next logical upside target are then the 105.40 highs, while I would continue to monitor the 104 level as key support.