Earlier this week we said that with the third quarter just days away from the history books, Wall Street is preparing for the worst earnings season since 2009, with Factset further noting that "if the index reports a decline in earnings for Q3, it will mark the first back-to-back quarters of earnings declines since 2009."
We presented the following table from ISI which showed that not only is the US now officially in a revenue recession, with every single quarter in 2015 set to post a decline from the previous year, with even the overly optimistic consensus case of a 4% increase in Q1 2016 revenues unable to regain sales last seen in Q3 2014, but S&P500 expected earnings in Q1 2016 of 119, a 6% increase from the previous year, will barely put the market back to levels seen in Q3 2014.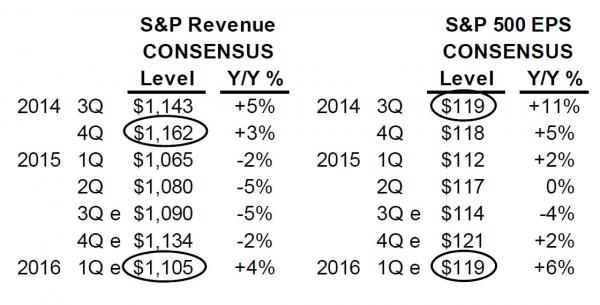 But before we get there we have to get through Q3: a quarter when not only revenues are set to tumble another 5%, but this time not even hundreds of billions in buybacks will prevent the  EPS from sliding, and according to Factset, Q3 EPS are set to tumble 4.5%.
In other words, while the revenue recession continues, the S&P 500 is about to enter its first earnings recession in six years.
Earlier today the mainstream media caught up noting that "Wall Street is bracing for a grim earnings season, with little improvement expected anytime soon" and added some facts of its own: expectations for future quarters are falling as well. A rolling 12-month forward earnings per share forecast now stands near negative 2 percent, the lowest since late 2009, when it was down 10.1 percent, according to Thomson Reuters I/B/E/S data.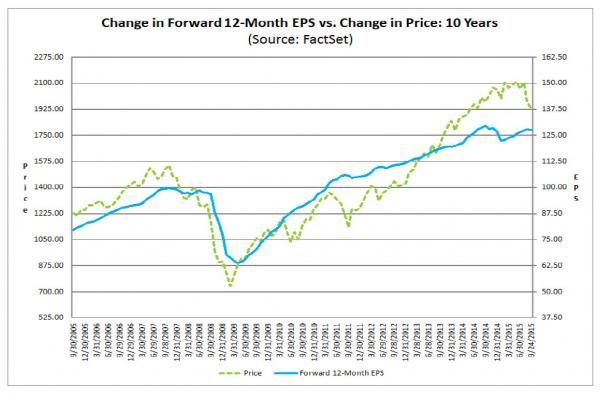 "The 3.9 percent estimated decline in third-quarter profits - down sharply from a July 1 forecast for a 0.4 percent dip - would be the first quarterly profit decline for the S&P 500 since the third quarter of 2009."
"Earnings recessions aren't good things. I don't care what the state of the economy is or anything else," said Michael Mullaney, chief investment officer at Fiduciary Trust Co in Boston. Michael is clearly paid the "big bucks" for a reason.
Another investor paid big bucks is Daniel Morgan, senior portfolio manager at Synovus Trust Company in Atlanta, Georgia, who cited earnings growth as one of the drivers of the market: "How can we drive the market higher when all of these signals aren't showing a lot of prosperity?"
How indeed.
And while in the past attention has traditionally fallen on AAPL as the marginal source of growth, this time not even AAPL can save the market-leading tech sector. As we showed two weeks ago, even with AAPL, Q3 Info-Tech EPS are set to record their first annual drop since Q2 2013. Should AAPL stumble if as some suggest iPhone 6S sales are far weaker than expected, and watch the bottom fall out from under the market.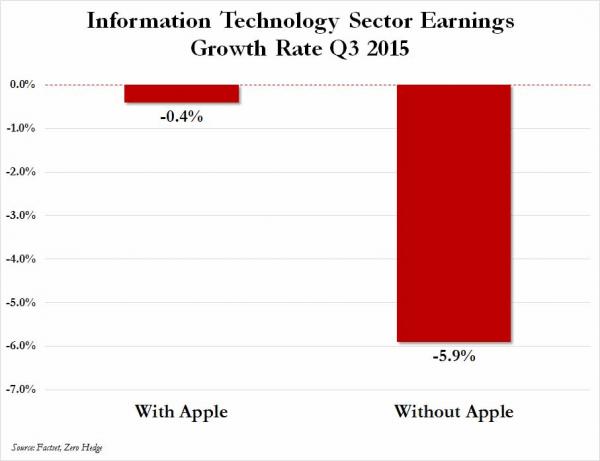 But it isn't AAPL that everyone will be looking at this quarter - the company that will make or break the Q3 earnings season is not even a tech company at all, but a financial: it's Bank of America.
The reason, as Factset points out, is that thanks to a base effect from a very weak Q3 in 2014, Bank of America is not only projected to be the largest contributor to year-over-year earnings growth for the Financials sector, but it is also projected to be the largest positive contributor to year-over-year earnings for the entire S&P 500!
The positive contribution from Bank of America to the earnings for the Financials sector and the S&P 500 index as a whole can mainly be attributed to an easy comparison to a year-ago loss. The mean EPS estimate for Bank of America for Q3 2015 is $0.36, compared to year-ago EPS of -$0.01. In the year-ago quarter, the company reported a charge for a settlement with the Department of Justice, which reduced EPS by $0.43. Bank of America has only reported a loss in two (Q1 2014 and Q3 2014) of the previous ten quarters.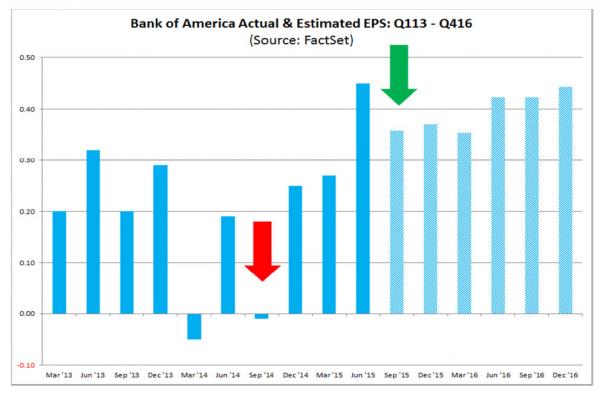 This is how big BofA's contribution to Q3 earnings season will be: if Bank of America is excluded from the index, the estimated earnings growth rate for the Financials sectors would fall to 0.7% from 8.2%, while the estimated earnings decline for the S&P 500 would increase to -5.9% from -4.5%.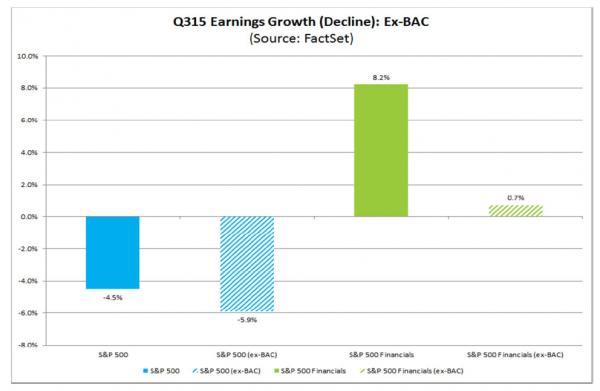 In other words, if BofA has some major and unexpected litigation provision or some "rogue" loss as a result of marking its deeply underwater bond portfolio to market as Jefferies did last week pushing its fixed income revenue (not profit) negative, the drop in the S&P will increase by a whopping 30%, and all due to just one company.
Finally, if the market which has been priced to perfection for years finally cracks - and by most accounts it will be on the back of bank earnings which have not been revised lower to reflect a reality in which the long awaited recovery was just pushed back to the 8th half of 2012, and where trading revenues are again set to disappoint - then the recently bearish David Tepper will once again have the final laugh because not only will the new direction in corporate revenues and earnings by confirmed, but a very violent readjustment in the earnings multiple would be imminent. As a reminder, Tepper hinted that the new fair multiple of the S&P 500 would drop from 18x to 16x. Applying a Q3 EPS of 114 and, well, readers can do their own math...