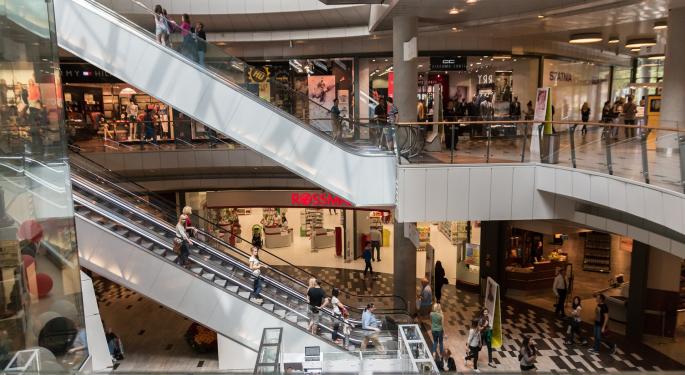 There's no question the rise of e-commerce giants like Amazon.com, Inc. AMZN 1.56% has changed the shopping mall market forever. However, some mall retail stocks have adapted to the changes, while others have fallen victim to them.
Shoppers will likely always enjoy the hands-on experience of browsing through the stores at the mall, trying on clothes and testing out products. In that sense, malls will likely always have a future. However, with so many companies feeling the e-commerce heat, stock picking has become critical.
Mall retailers like J C Penney Company Inc JCP 0.49%, TJX Companies Inc TJX 0.17% and Foot Locker, Inc. FL 0.84% are certainly among the companies that have figured out how to adapt in recent years. Since November 1, 2013, the three stocks are up 13.0, 20.5 and 92.8 percent, respectively.
Other mall retailers like Aeropostale, Pacific Sunwear, American Apparel and Wet Seal have even succumbed to bankruptcy.
For investors that aren't too keen on picking winners and losers, another option is to invest in mall real estate via REITs. Unfortunately, there have been clear winners and losers in that space as well.
In the past three years, mall REITs Regency Centers Corp REG 0.24%, Federal Realty Investment Trust FRT 0.68% and Agree Realty Corporation ADC 0.43% are up 36.1, 37.6 and 49.6 percent, respectively. Tanger Factory Outlet Centers Inc. SKT 0.21%, DDR Corp DDR 0.54% and CBL & Associates Properties, Inc. CBL 1.89% are down 2.2, 12.0 and 46.8, respectively.
Unfortunately, as long as the dynamic of the shopping mall business continues to change, there will continue to be plenty of big winners and big losers among both mall stocks and mall REITs. Investors dipping their toes into the space should make sure to choose wisely.
© 2016 Benzinga.com. Benzinga does not provide investment advice. All rights reserved.