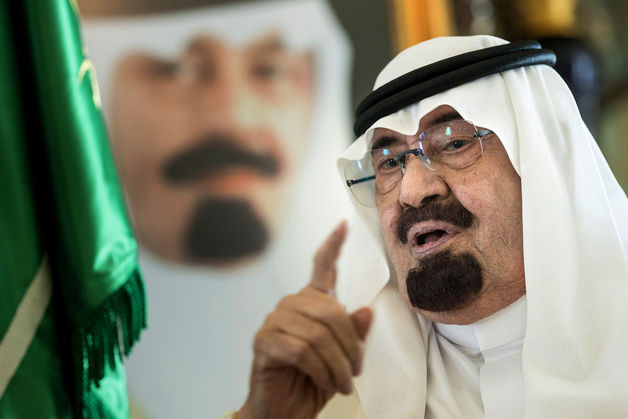 Photographer: Brendan Smialowski/AFP/Getty Images
King Abdullah of Saudi Arabia speaks before a meeting with the U.S. Secretary of State at his private residence in the Red Sea city of Jeddah on June 27, 2014.
Oil rose after the death of King Abdullah of Saudi Arabia, the biggest producer in the Organization of Petroleum Exporting Countries.
Futures rallied as much as 3.1 percent in New York and 2.6 percent in London after the Saudi royal court announced the death in a statement. Crown Prince Salman bin Abdulaziz will succeed Abdullah on the throne. The kingdom, the world's largest crude exporter, led OPEC's decision to maintain its oil-production quota at a meeting in November, exacerbating a global glut that's driven prices lower.
"The passing of King Abdullah is going to increase uncertainty and increase volatility in oil prices in the near term," Neil Beveridge, a Hong Kong-based analyst at Sanford C. Bernstein & Co., said by phone. "I wouldn't expect a change in policy in the near term to be known, but the passing comes at a challenging time for Saudi Arabia."
Oil fell almost 50 percent last year as the U.S. pumped at the fastest rate in more than three decades and OPEC resisted calls to cut output. Crude stockpiles in the U.S., the world's biggest oil consumer, rose by 10.1 million barrels through Jan. 16, the Energy Information Administration reported on Thursday. That was the biggest volume gain since March 2001.
bloomberg