Invest with Confidence. Are you a financial professional? Stay on top of your portfolio with Benzinga Pro's real-time newsfeed and alerts and never miss a headline again.
Don't miss the chance to try it FREE today.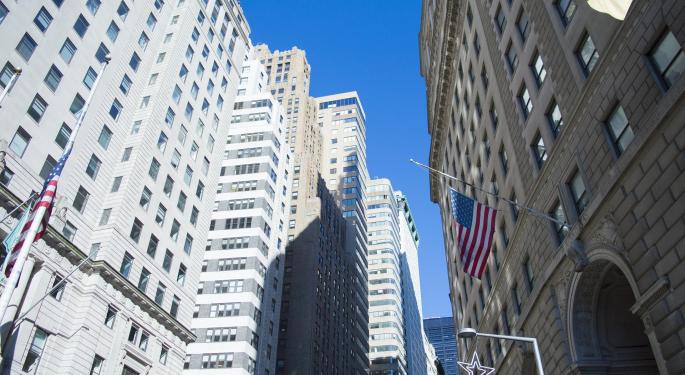 Below is a tool used by the Benzinga News Desk each trading day -- it's a look at everything happening in the market, in five minutes. Apply for daily AM access by clicking here or email minutes@benzinga.com.
Macro Focus
Asian were mostly in the red ahead of the Bank of Japan's meeting on Thursday. Japan's central bank may introduce negative lending rates, at least according to Kathy Lien of BK Asset Management. The U.S. Federal Reserve will also meet this week. Coupled with the Bank of Japan's meeting, investors remain on edge, and it showed in Monday's trading action in Asia and Europe. The price of a barrel of oil traded lower by 1.3 percent ahead of Monday's U.S. market open, while hold and other metals saw slight gains.
President Barack Obama announced Monday an additional 250 special operations forces will be sent to Syria in the coming weeks in a speech in Hannover, Germany, in an effort to stem the influence and spread of ISIS. Obama stressed that U.S. troops will not be leading the fight on the ground, but will be essential in training and assisting local forces.
"Bond investors are taking bigger risks than ever before," Bloomberg notes. "Yields on $7.8 trillion of government bonds have been driven below zero by worries over global growth, meaning money managers looking for income are pouring into debt with maturities of as long as 100 years. Central banks' policy is exacerbating matters, as the unprecedented debt purchases to spur their economies have soaked up supply and left would-be buyers with few options."
BZ News Desk Focus
Another big week of earnings, as Ford NYSEF and Fiat Chrysler NYSEFCAU try to follow in General Motors footsteps, while Facebook NASDAQFB and Amazon NASDAQAMZN round out the FANG index.
Apple NASDAQAAPL reports Tuesday afternoon. Will iPhone weakness hurt its quarter?
Valeant NYSEVRX announced Joe Papa will become its new CEO, confirming reports last week that Papa would leave his position as Perrigo NYSEPRGO CEO.
Sell-Side Themes
The heart of major pharma Q1 earnings season: Credit Suisse previewed Eli Lilly NYSELLY, AbbVie NYSEABBV and Bristol-Myers NYSEBMY.
Goldman Sachs upgraded the machinery sector -- including Joy Global NYSEJOY and Caterpillar NYSECAT -- from cautious to neutral.
Sell-Side's Most Noteworthy Calls
Caterpillar NYSECAT raised to Neutral at Goldman.
L Brands NYSELB upgraded to Buy at Stifel.
Jazz Pharma NASDAQJAZZ raised to Buy at SunTrust.
Joy Global NYSEJOY raised to Neutral at Goldman.
Pultegroup NYSEPHM cut to market perform at Raymond James.
Workday NYSEWDAY downgraded to Sector Weight at Pacific Crest.
Kimberly-Clark NYSEKMB downgraded from Buy to Hold at Deutsche Bank.
Southwestern Energy NYSESWN cut to Market Perform at Cowen.
VF Corp. NYSEVFC cut to Hold at BB&T Capital.
Medtronic NYSEMDT initiated at Buy by SunTrust.
Integrated Device NASDAQIDTI set new Buy rating at $26 price target from at Needham.
Wayfair NYSEW initiated at Neutral by JPMorgan.
Deal Talk
Tribune NYSETPUB jumped 60 percent after Gannett NYSEGCI disclosed a a takeover proposal to buy the publishing outlet for $12.25 a share in cash. The proposal worked the total value to be about $815 million. That included assumption of some liabilities including $390 million outstanding debt as of December last year.
Bellicum NASDAQBLCM spiked last Friday from an EP Vantage report that said it could be an acquisition target for Juno Therapeutics NASDAQJUNO.
Buy-Side
As the weather gets nastier, hedge funds hold their most-bullish soy holdings since May 2014 as cotton wagers double. SocGen says more bad weather may mean "massive" price gains.
Aurora will return $5.4 billion back to clients, according to a Bloomberg report. As Zero Hedge says, another one bites the bust...
In The News
Ted Cruz and John Kasich are joining forces in a last-ditch effort to deny Donald Trump the Republican presidential nomination. The pair issued statements late Sunday saying they will divide their efforts in upcoming contests with Cruz focusing on Indiana and Kasich devoting his efforts to Oregon and New Mexico.
The attackers who stole $81 million from the Bangladesh central bank probably hacked into software from the SWIFT financial platform that is at the heart of the global financial system, said security researchers at British defense contractor BAE Systems. SWIFT, a cooperative owned by 3,000 financial institutions, confirmed to Reuters it was aware of malware targeting its client software. Spokeswoman Natasha Deteran said SWIFT would release on Monday a software update to thwart the malware, along with a special warning for financial institutions to scrutinize their security procedures.
The Chernobyl disaster: "An international effort to seal the destroyed remains of the nuclear reactor that exploded in Ukraine 30 years ago is finally close to completion, and remarkably," Washington Post reports, "considering the political revolution and armed conflict that have rocked the country since 2014, it's close to being on schedule."
A new research report says department stores (Macy's NYSEM, JC Penney NYSEJCP, Sears NASDAQSHLD) need to close hundreds of locations to regain the productivity they had a decade ago.
Blogosphere
"If sugar is the new smoking, then the makers of fizzy drinks and fattening cakes need to learn some lessons from big tobacco," write Gadfly's Andrea Falstead.
The relentless online education of the investor class has done more to threaten mutual fund AUM and profit margins in the last few years than ever before. Read more about bad active management from the Reformed Broker.
Trending
HBO's "Game of Thrones" season 6 premiered last night, and per usual, had the whole social crowd buzzing.
Beyoncé's latest album release, titled "Lemonade," was released exclusively over the weekend on Tidal, her husband Jay Z's streaming music service. The New York Times, citing a Tidal spokesperson, reported that Tidal would have the exclusive streaming version "in perpetuity." However, Tidal's 3 million subscriber base may have restricted Beyoncé's ability to reach as many fans as possible. On Sunday night, the album was made available on iTunes.
© 2016 Benzinga.com. Benzinga does not provide investment advice. All rights reserved.