Two biggest move overnight came from everyone's favorite carry pair, the USDJPY, which may have finally read what we said yesterday, namely that with the Fed and ECB both doing its job, there is little need for the Bank of Japan to repeat its Halloween massacre for the second year in a row, and as a result will keep its QQE program unchanged. It promptly tumbled from its 121 tractor level, to just above 120.25, where BOJ bids were said to be found.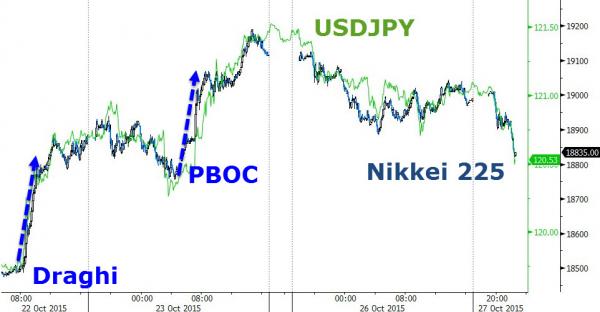 With the FOMC October meeting starting today, the other overnight catalyst was not surprisingly the latest Hilsenrath scribe in which he removed any uncertainty about a Wednesday hike, "leaving mid-December as the central bank's last chance to raise rates this year."
The timetable poses twin challenges for Fed Chairwoman Janet Yellen: Deciding whether the U.S. economy is ready for an interest-rate increase, and signaling central bank intentions without causing further market confusion.
The problem is that not even Hilsenrath's Fed "source" has any idea what will happen in December. "The Fed's uncertainty is contagious. A Wall Street Journal survey of market economists this month found that 64% believe the Fed will raise rates by December. Futures markets put the odds at 35%." Who's wrong? Well, the Fed's model of the economy, and the "dot plot" are certainly accurate, so it has to be the economy's fault for not complying with the central planners' vision:
One cause of the confusion isn't the fault of the central bank. The economy isn't cooperating. With unemployment falling rapidly, Ms. Yellen and most of her colleagues began the year thinking the economy would be strong enough to lift rates.
One of these years the Fed will realize that the reason the "economy isn't cooperating" is because of the Fed. But don't hold your breath, we give it at least another 24-36 months before the S&P is at 3000 and Yellen is still "confused."
In other news, there was the usual macro disappointment, when UK Q3 GDP printed at 0.5%, below the 0.6% expected, and down from 0.7% in Q2, driven by the weakest construction sector contribution to GDP in years. Are the Chinese no longer buying?
Speaking of Chinese buying, perhaps they were not too excited about stocks, but with the SHCOMP down most of the day, we were relieved to see the National team stage its usual last hour intervention, and drag the Chinese stock market from down -2% to close up 0.14% with the traditional furious last hour ramp to eliminate the bitter aftertaste from the latest drop in industrial profits which dropped -0.1% Y/Y, following a -8.8% drop in August.
One thing the Chinese were definitely not buying was natgas which overnight dropped continued their steep descent and dropped below $2.00 for the first time since 2012 and just the 4th time in the 21st century.
Elsewhere in Asian equity markets traded lower led by the slump in Chinese stocks as they shrugged off the recent easing measures by the PBoC , while subdued trade was also observed as participants await the FOMC and BoJ policy decisions. Shanghai Comp. (+0.1%) retreated from 2-month highs amid a continued decline in industrial profits (-0.10% vs. Prey. -8.80%), however, heading into the European open some losses have been pared. Nikkei 225 (-0.9%) was pressured by losses in the energy sector which also weighed on the ASX 200 (0.0%). JGBs traded higher as the lacklustre risk sentiment drove inflows into the safer asset, while a stronger than prior 40yr auction added support.
European equities kicked off the session firmly in negative territory before paring the losses throughout the morning (Euro Stoxx: -0.1%). Equities have been weighed on notably by healthcare and materials names in the wake of downbeat earnings from Novartis (-1.4%) and BASF (-4.1%). While fixed income markets have seen Bunds continue to be supported by softer stocks, with Dutch 4.0% 2019 and 2.5% 2033 Bonds (equiv to approx 20k Bund futures) seeing a relatively successful auction. Of note, there is a fair amount of supply today, with ESM expected to issue 5y syndication and Cyprus' lOy syndication.
In FX, as noted above, markets saw JPY outperform once again, in line with yesterday's move on the back of comments from the likes of Honda and Hamada out of Japan, suggesting that the BoJ do not need to increase QQE when they meet on Friday. Elsewhere, EUR underperforms the USD, with ECB's Praet adding to the dampened sentiment for EUR this morning by suggesting the ECB is examining short-term rates and its asset-buying program as well as stating the inflation target could be delayed. GBP also underperforms against the USD, weakening heading into the release of the advanced Q3 GDP release out of the UK (Q/Q 0.50% vs. Exp. 0.60%).
In the commodity space, the energy complex remains soft, with WTI and Brent remaining in negative territory, although off their worst levels, while NatGas has fallen below USD 2.00/MMBTU for the first time since 2012 , as forecasts predicting warmer than average weather continue to weigh upon the commodity. Looking ahead, today sees the release of API crude oil inventories (Prey. 7100K).
Elsewhere, the metals complex has seen relatively muted price action overnight, with gold outperforming other precious metals underpinned by increased demand for safer assets as Chinese markets initially shrugged off last week's PBoC rate cuts
Looking ahead, today sees durable goods orders, S&P/Case Shiller report and services PM! out of the US, as well as comments from ECB's Nowotny and Coeure and BoE's Shafik. It's a busy day for corporate earnings too. In the US 43 S&P 500 companies are due to report with the highlights including Pfizer, Ford, UPS and Merck all before the open and then Apple's numbers after the closing bell.
Market Wrap:
S&P 500 futures down 0.1% at 2060
Equities: Nikkei 225 (-0.9%), IBEX (-0.7%), Euro Stoxx 50 down 0.2%, FTSE 100 down 0.3%, DAX down 0.1%, CAC 40 down 0.3%, IBEX 35 down 0.7%, FTSE MIB little changed, SMI down 0.6%
Bonds: German 10Yr yield (-2.4%), French 10Yr yield (-1.4%)
Commodities: Natural Gas Futures (-2.7%), WTI Futures (-1.2%)
FX: Yen spot (+0.5%), EUR/CHF (+0.1%)
Vstoxx Index up 0.5% at 20.74
For a detailed market snapshot click here
U.S. consumer confidence, durable goods orders, capital goods orders, Markit U.S. composite PMI, Markit U.S. services PMI, due later
Bulletin Headline Summary from RanSquawk and Bloomberg
Stocks in Europe opened lower, with DAX and SMI underperforming following weak earnings by BASF (BAS GY) and also Novartis (NOVN VX)
JPY continued to strengthen in a similar manner to the move seen yesterday with EUR/JPY and USD/JPY lower ahead of this week's BoJ decision with figures such as Hamada and Honda downplaying the likelihood of additional imminent easing
Looking ahead, today sees durable goods orders, S&P/Case Shiller report and services PM! out of the US, as well as API crude oil inventories and comments from ECB's Nowotny and Coeure and BoE's Shafik
ASIA
Treasuries steady before two-day FOMC meeting begins in Washington and before week's auctions begin tomorrow with $29b 5Y, $15b 2Y FRN; 2Y notes sales scheduled for today was postponed.
The White House and top lawmakers from both parties reached a deal to avoid a debt default after Nov. 3, putting lawmakers on course to stave off a fiscal calamity
China said it will take "all necessary measures" to defend its territory after the U.S. sailed a warship through waters claimed by China in the disputed South China Sea, a move Beijing called a threat to peace and stability in Asia
The U.S. plans to sell millions of barrels of crude oil from its Strategic Petroleum Reserve from 2018 until 2025 under a budget deal reached on Monday night by the White House and top lawmakers from both parties
Iran's crude exports are likely to remain restricted until the first half of next year, when it's "reasonable" to expect international sanctions against the OPEC producer to be lifted, according to a U.S. government official
U.S. natural gas traded below $2/mBTU for the first time since April 2012 as a glut of the power-plant and heating fuel expands toward a record
Some officials at Abe's office and the finance ministry see no need now for the Bank of Japan to expand its monetary stimulus program amid concern it would harm consumers, according to people with knowledge of talks inside the government
China's official 6.9% y/y print for 3Q GDP is at odds with models used by researchers at Bloomberg Intelligence and financial firms, Bloomberg economists Tom Orlik and Fielding Chen write
$7.1b IG priced yesterday, no HY. BofAML Corporate Master Index OAS narrows 1bp to +166, YTD range 180/129. High Yield Master II OAS widens 3bp to +600, YTD range 683/438
Sovereign 10Y bond yields lower. Asian and European stocks mostly lower, U.S. equity-index futures decline. Crude oil lower, gold and copper higher
US Event Calendar
8:30am: Durable Goods Orders, Sept., est. -1.5% (prior -2%, revised -2.3%)

Durables Ex-Transportation, Sept., est. 0% (prior 0%, revised -0.2%)
Cap Goods Orders Non-defense Ex Air, Sept., est. 0.2% (prior -0.2%, revised -0.8%)
Cap Goods Ship Non-defense Ex Air, Sept., est. 0.4% (prior -0.2%, revised -0.4%)

9:00am: S&P/Case-Shiller 20 City m/m, Aug. est. 0.1% (prior -0.2%)

S&P/CS 20 y/y, Aug., est. 5.1% (prior 4.96%)
S&P/CS 20 NSA, Aug., est. 182.26 (prior 181.9)
S&P/CS U.S. HPI m/m, Aug. (prior 0.37%)
S&P/CS U.S. HPI y/y, Aug., est. 4.8% (prior 4.69%)
S&P/CS U.S. HPI NSA, Aug. (prior 175.11)

9:45am: Markit U.S. Composite PMI, Oct. P (prior 55)

Markit U.S. Services PMI, Oct. P, est. 55.5 (prior 55.1)

10:00am: Consumer Confidence Index, Oct., est. 103 (prior 103)
10:00am: Richmond Fed Mfg Index, Oct., est. -3 (prior -5)
Fed starts 2-day policy meeting
DB's Jim Reid completes the overnight summary
Looking now at the latest in Asia this morning. Any post-PBoC easing euphoria which supported an, albeit modest, rise in Chinese equities markets yesterday has come to a sudden halt this morning with falls across Chinese bourses. The Shanghai Comp is down -1.05%, while the CSI 300 and Shenzhen are -1.17% and -0.76% respectively. That's actually despite a rebound in China industrial profits data this morning, with the September print improving to (a still however soft) -0.1% yoy from -8.8% in August. Meanwhile, it's broadly weaker across much of the Asia region this morning. The Nikkei (-0.64%), Hang Seng (-0.48%) and Kospi (-0.38%) all taking a leg lower, while the ASX is the relative outperformer, down just -0.03%. Credit indices in Asia and Australia are generally 2bps wider this morning too.
A slide in commodity markets was the big story yesterday. After falling nearly 10% in the last two weeks, Brent (-0.94%) continued to march lower yesterday, closing at $47.54/bbl. It was a similar story for WTI (-1.39%) which closed back below $44 for the first time since August 26th and is now nearly $8 off the MTD highs reached just 17 days ago. Both markets are down another 1% in trading this morning too. Natural Gas was the big mover yesterday though after tumbling -9.80% and to the lowest since April 2012. While the continued concerns around record-high inventory levels are still front and centre, concern for a strong el Nino this winter is also weighing on the energy complex at the moment and being attributed for much of the latest leg lower.
Those moves kept energy stocks on the back foot yesterday with the likes of Chevron, Exxon Mobil, Shell, Total and ConocoPhillips down between 1% and 3%. That was enough to see equity markets run out of steam following the recent dovish CB relief rally. The Stoxx 600 finished -0.39% while in the US the S&P 500 finished down -0.19% and the Dow closed -0.13%. The Nasdaq continues to be the relative outperformer however with the index yesterday just about closing in positive territory (+0.06%), taking it to just 2% off the August highs prior to the huge sell-off mid-way through the month.
Apple was a notable drag for US equities yesterday too after falling 3% following some weak results out of the company's semi-conductor supplier. Apple will be the attention of most analysts this evening when the tech giant is due to release its latest quarterly earnings report. Yesterday was in fact a fairly quiet day for earnings on the whole. Just 11 S&P 500 companies released their latest quarterly report, with 7 (64%) beating earnings expectations and 5 (45%) beating revenue estimates. That means with 185 companies having reported, 74% have beaten earnings expectations but just 42% beating top line estimates (73% and 42% respectively this time yesterday).
Treasury yields nudged lower yesterday, the benchmark 10y down 3bps to 2.057% and the US Dollar came under some pressure (Dollar index -0.27%) following a strong 3-day run after some fairly softish US economic data yesterday. New home sales for September were weak, falling -11.5% mom during the month (vs. -0.6% expected) after a downward revision to August and July, taking the annualized rate down to 468k and the lowest since November last year. Following this we got the latest Dallas Fed manufacturing activity index with the October print of -12.7 (vs. -6.5 expected) a 3.2pt fall from September. The index has in fact failed to print in positive territory this year, while there was more softness in the new orders component, down 3pts to -7.6pts.
Over in Europe the only data to note was out of Germany with the October IFO survey. The headline index reading fell (-0.3pts) less than expected to 108.2 (vs. 107.8 expected). The expectations print rose 0.5pts to 103.8 (vs. 102.4 expected) but the current assessment reading declined 1.4pts to 112.6 (vs. 113.5 expected). Our colleagues in Europe noted that the expectations print points to +0.6% qoq GDP growth in Q4 which compares to the composite PMI which points to +0.5% growth - both an upside risk to their +0.3% estimate currently for Q4.
Before we turn to today's calendar, headlines on the wires are suggesting that we may be moving one step closer to a budget agreement in the US. According to the WSJ, the White House and congressional leaders were said to be nearing a two-year budget plan deal this week and ahead of the November 3rd deadline. The article suggests that the deal would suspend the debt limit into early 2017 while also establishing new spending levels through September 2017.
Turning now to today's calendar. Data flow this morning in Europe kick starts with the latest Euro area money and credit aggregates. That's before we get the advanced Q3 GDP reading in the UK with market expectations currently sitting at +0.6% qoq. This afternoon in the US we've got a bumper session for economic data. Capital and durable goods orders for September will warrant much of the attention, with the data helping to sharpen this Thursday's Q3 GDP report. Shortly following this we'll get the August S&P/Case Shiller house price index reading, before the October flash composite and services PMI's. Later on we'll then get the October consumer confidence print and Richmond Fed manufacturing survey. It's a busy day for corporate earnings too. In the US 43 S&P 500 companies are due to report with the highlights including Pfizer, Ford, UPS and Merck all before the open and then Apple's numbers after the closing bell. In Europe we're due to hear from 13 Stoxx 600 names with BP looking like the notable highlight.