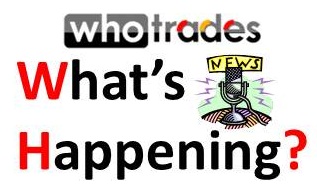 Upcoming S&P 500 Earnings Releases:
Check out the earnings parade of the big companies
Before The Bell:
Chesapeake Energy
Centerpoint Energy Inc
Duke Energy Corp.
Devon Energy Corp. 
Hospira
Humana Inc.
Marsh & McLennan Companies
Pepco Holdings, Inc. 
Ralph Lauren Corp.
Molson Coors Brewing Company 
Time Warner Inc.
After The Bell:
CBS Corp. 
CenturyLink, Inc.
Mondelez International, Inc.
Prudential Financial, Inc.
QUALCOMM Inc.
Transocean Ltd.
Integrys Energy Group 
Tesoro Corp. 
Whole Foods Market 
---
Important Data Releases:
UK:
4:30AM EST Office for National Statisticswill release Manufacturing Production m/m, which measures change in the total inflation-adjusted value of output produced by manufacturers.
Canada:
8:30AM EST Statistics Canada will release Building Permits m/m, which measures change in the total value of new building permits issued.
10:00AM EST Richard Ivey School of Business will release Ivey PMI, which measures the level of a diffusion index based on surveyed purchasing managers.
Australia:
7:30PM EST Australian Bureau of Statistics will release Employment Change, which measures in the number of employed people during the previous month, and will also release Unemployment Rate, which measures the percentage of the total work force that is unemployed and actively seeking employment during the previous month.