The food/grocery industry is grappling with a number of headwinds of late. Shift in consumer purchase decisions, evolving shopping behavior and increasing presence of small firms continue to plague the industry. A shift in consumer preference toward non-genetically modified, organic, and gluten free products is also hurting business. Also, there is an industry-wide weakness, as deflationary pressure in commodities such as dairy, beef and eggs are hurting the margins of food companies like Sysco Corp. SYY, United Natural Foods, Inc., Sprouts Farmers Market, Inc.
The recent news of e-Commerce king Amazon.com, Inc. AMZN acquiring the natural and organic foods supermarket chain Whole Foods Market Inc. WFM has further unnerved food competitors and raised concerns.
The not-so-impressive scenario in the food/grocery industry is evident from the fact that out of the 260-plus industries, the Food-Miscellaneous/Diversified industry falls in bottom 42% of Zacks classified industries and holds a Zacks Industry Rank #153. To learn more visit: About Zacks Industry Rank.
Value Investing
In such a scenario, investors must be looking out for value stocks that are compelling buys or offer up lucrative discounts when compared to fair value. Value investing is easily one of the most popular ways to find great stocks in any market environment.
With the help of our new style score system, we have identified that SUPERVALU, Inc. SVU can be a good choice for value-oriented investors right now, as the stock carries a Zacks Rank #2 and flaunts a Value score of 'A'.
Our Value Style Score condenses all valuation metrics into one actionable score that helps investors steer clear of 'value traps' and identify stocks that are truly trading at a discount. Our research shows that stocks with Style Score of 'A' or 'B' when combined with a Zacks Rank #1 (Strong Buy) or 2 (Buy) offer the best upside potential. You can see the complete list of today's Zacks #1 Rank stocks here.
Now let's look at several key metrics and financial ratios, many of which are crucial in the value stock selection process.
PE Ratio
A key metric that value investors always look at is the Price to Earnings Ratio (PE). This shows us how much investors are willing to pay for each dollar of earnings in a given stock, and is easily one of the most popular financial ratios in the world.
On this front, SUPERVALU has a trailing 12 months PE ratio of 6.6. This level actually compares pretty favorably with the market at large, as the PE for the S&P 500 is 20.1. Further, the stock's PE also compares favorably with the Zacks classified industry's trailing 12 months PE ratio, which is pegged at 21.3. At the very least, this indicates that the stock is relatively undervalued right now, compared to its peers, as you can see in the chart below: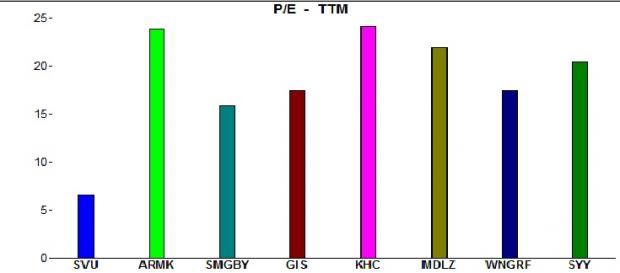 Notably, SUPERVALU has a forward PE ratio (price relative to this year's earnings) of just 9.0, which compares favorably with industry's average of 19.8 and S&P 500 average of 18.9. So it is fair to say that a slightly more value-oriented path may be ahead for SUPERVALU stock in the near term too.
P/S Ratio
Another key metric to note is the Price/Sales ratio. This approach compares a given stock's price to its total sales, where a lower reading is generally considered better. Right now, SUPERVALU has a P/S ratio of about 0.1. This is significantly lower than the industry average of 1.8 and S&P 500 average, which comes in at 3.1 right now.
P/FCF Ratio
Another great indicator of value is the P/FCF ratio, which comes in at 4.6, which is much better than the industry average of 25.6 and S&P average of 27.8. Clearly, SVU is a solid choice on the value front from multiple angles.
A Stock Overview
SUPERVALU is one of the nation's largest supermarket retailer and largest food distributor. However, we note that this grocery dealer does not have a good track record of financial performance. The company's earnings have lagged the Zacks Consensus Estimate in two of the trailing four quarters, with an average miss of 6.7%. Moreover, its sales have lagged the consensus mark in six of the seven straight quarters. In fact, SUPERVALU's shares have underperformed the Zacks categorized industry in the last six months. During the said time frame, shares of this company plunged 33.3% compared with the industry's decline of 5.8%.

Nevertheless, it is commendable that SUPERVALU is taking measures to turn around the stock and improve its business. In fact, the company is taking initiatives to expand its retail banners in to boost sales. Further, SUPERVALU is focusing on its wholesale business, which is mainly driven by sales to new customers as well as from new outlets operated by existing customers. Also, the recent acquisition of Unified Grocers is expected to radically boost the company's wholesale segment, alongside offering new growth opportunities across multiple geographies. Moreover, it has undertaken several measures to improve comps in the retail sector and increase operating efficiency.
Estimates have increased for 2017 over the last 30 days. Further, it is expected to witness earnings growth of 18.97% in 2017.
SuperValu Inc. Price, Consensus and EPS Surprise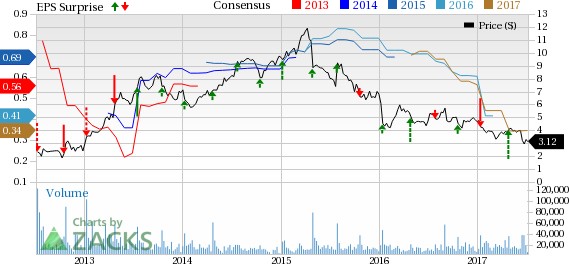 SuperValu Inc. Price, Consensus and EPS Surprise | SuperValu Inc. Quote
Bottom Line
SUPERVALU is surely an inspired choice for value investors, buoyed by its incredible line up of statistics, amid sluggish grocery market scenario.
Will You Make a Fortune on the Shift to Electric Cars?
Here's another stock idea to consider. Much like petroleum 150 years ago, lithium power may soon shake the world, creating millionaires and reshaping geo-politics. Soon electric vehicles (EVs) may be cheaper than gas guzzlers. Some are already reaching 265 miles on a single charge.
With battery prices plummeting and charging stations set to multiply, one company stands out as the #1 stock to buy according to Zacks research.
It's not the one you think.
Want the latest recommendations from Zacks Investment Research? Today, you can download 7 Best Stocks for the Next 30 Days.
Click to get this free report
Amazon.com, Inc. (AMZN): Free Stock Analysis Report
Sysco Corporation (SYY): Free Stock Analysis Report
SuperValu Inc. (SVU): Free Stock Analysis Report
Whole Foods Market, Inc. (WFM): Free Stock Analysis Report
To read this article on Zacks.com click here.
Zacks Investment Research