The data, according to many analysts, have been broadly supportive, with stronger growth and a tightening in the labor market that should allow the Fed to be "reasonably confident" that inflation will gradually return to target. That said, heightened global risks could lead to a tactical delay. Economisseds remain evenly split on the prospect of the first rate increase in 9 years.
Fed fund futures price 30% odds of move this mo. and more than 50% chance in Dec.
Barclays (Michael Gapen, Rob Martin, Blerina Uruci)
Fed to stay on hold for now, lift rates in March
FOMC should delay liftoff as it assesses downside risks to outlook
BMO (Aaron Kohli)
"Our core view remains that liftoff is a 2015 event"
Whether Fed hikes or not is less important than impact of their "net communication" on mkts; "real question" is whether communication eases or tightens conditions
BNP (economists)
FOMC to give dovish projections at this mtg, delay liftoff
Yellen to reiterate action later this yr
BoT-Mit (Chris Rupkey)
Fed should be "propelled into action" at this mtg
U.S. economy remains on track for Fed to raise rates
Brean (Russ Certo)
Fed may be ready for rate hike, not mkts
Credit Agricole (David Keeble)
Fed Sept. mtg is "very live," yet may lead to delay in liftoff
Credit Suisse (research analysts)
FOMC won't hike in Sept., may hint at Oct. or Dec.
Timing largely contingent on global conditions/financial mkt volatility
DB (Joseph LaVorgna, Brett Ryan, Aditya Bhave)
FOMC likely to say prudent course is "to do nothing," favor waiting to see how economic/financial "landscape" evolve before Oct. mtg
FTN (Chris Low)
Fed will choose to raise rates now; officials will agree 25bps is no "big deal one way or the other"
Jefferies (Ward McCarthy, Thomas Simons)
Fed will make modest changes to statement, mostly on economic/labor mkt assessment; both should be more optimistic than in July
2015 median dot should decline to 0.375%, suggesting just 1 hike before end of yr
Fed will also announce press conferences after each mtg until liftoff
JPM (Michael Feroli)
Sept. mtg "very close call," odds tilt toward liftoff
Macquarie (Nizam Idris)
FOMC increase of 12.5bps can't be ruled out
MFR (Josh Shapiro)
Odds are slightly higher of liftoff in Oct. than now
FOMC statement should hint "strongly at such a move"
Mizuho (Steven Ricchiuto)
Fed may not get conditions needed to hike until 2H 2016
Nomura (George Goncalves)
Fed will probably skip liftoff Thursday
Officials to say conditions aren't right to hike
Pimco (Harley Bassman)
Fed needs to "remove Hamlet's cape," hike now
Policy makers have all information they need to act now
RBC (Tom Porcelli, Jacob Oubina, Michael Cloherty, Dan Grubert)
Fed, to liftoff, would likely want to nudge mkt odds higher
Less than 50% odds, coupled with no new guidance before FOMC mtg, means RBC will have to mark down its own odds of Sept. liftoff
Renaissance (Neil Dutta)
Fed most likely to pass on rate increase Thursday; odds of move are 50%
Sberbank (Tom Levinson)
"We narrowly favor a hike," with Fed trying to turn volatile mkt conditions to its advantage
Liftoff now may subdue anxiety, signal confidence, improve risk sentiment in 4Q
Scotiabank's Guy Haselmann
FOMC needs to rip "band aid off," hike already
Uncertainty around liftoff has made mkts "untradeable and wildly volatile"
Societe Generale (strategists)
Minimal liftoff could bring relief
Fed rate increase would deliver positive signal on U.S. economy, remove uncertainty
TD (Millan Mulraine)
Fed to err on side of caution, take pass on liftoff for now
Dots will reflect slower pace of stimulus withdrawal, lower terminal rate once liftoff begins
Wells Fargo (John Silvia, Mark Vitner, Michael Brown)
Liftoff won't be any easier in Oct. or Dec. than now
Sticking with view that Fed will lift off at this mtg by 25bps
And finally BofAML...
A key question is whether FOMC officials will pencil in one or two hikes for this year. Fed Chair Yellen will emphasize in the press conference that this is not a "one and done" tightening. While the trajectory will be data dependent, the Fed anticipates a gradual path of higher rates over time. She may acknowledge downside risks from the global economy and tighter financial conditions as factors that could slow the hiking cycle.
In an effort to simplify the conversation, BofAML shows outcomes for the Fed under their baseline scenario of a hike and the alternative of a delay...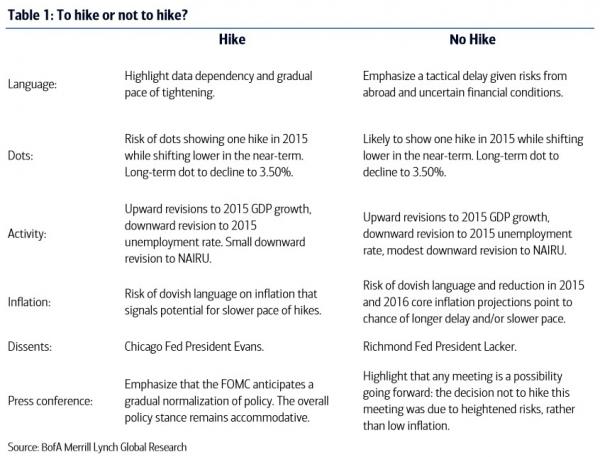 Source: Bloomberg, BofA
*  *  *
Trade Accordingly...