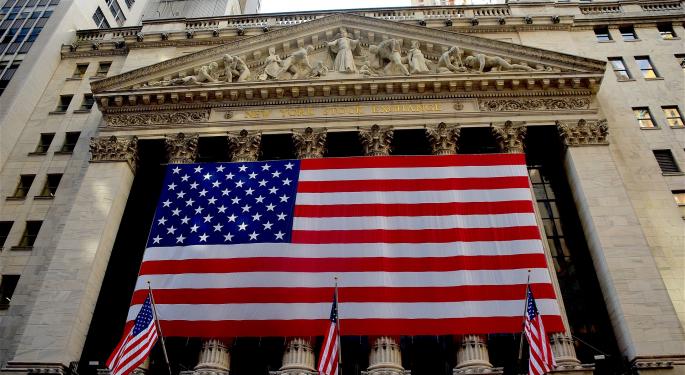 The S&P 500 is up about 0.5 percent in Tuesday after a strong performance on Monday. So far, election week is off to a strong start for investors, but tonight's results could be the biggest stock market catalyst in recent years.
SPDR S&P 500 ETF Trust SPY 0.6% and iPath S&P 500 VIX Short Term Futures TM ETN VXX 1.33% volatility traders may have a major opportunity in the days following the election.
Benzinga took a look back at how the S&P 500 reacted to each of the past eight elections in its first week of trading. If history is any indication, here's a look at what traders can expect starting Wednesday.
Since 1984
Regardless of which candidate comes out on top, the market has certainly reacted strongly to recent elections. Since 1984, the S&P 500 has averaged a one-week return of -2.2 percent following Election Day.
In terms of volatility, the average magnitude of the S&P 500's move has been 3.5 percent. In fact, the S&P 500's -0.3 percent post-election move in 1992 is the only time the stock market hasn't moved at least 2.1 percent in one direction or the other in the week following Election Day.
Digging a bit deeper, the market's knee-jerk election reactions have been worse when Democrats are elected than Republicans. The S&P 500 has averaged a -3.1 percent one-week return following the last four Democratic victories and a -1.3 percent return following the last four Republican victories.
Ironically, the stock market has historically performed much better throughout the full terms of Democratic presidents than Republicans.
Incumbent Factor
Another key factor for traders is whether or not the newly-elected president represents the incumbent presidential party.
Since 1984, the S&P 500 has reacted much more favorably to election winners that represent the same party as the previous-term president. The one-week market return following incumbent party victories is -0.7 percent, but a change in party has resulted in an average -4.7 percent one-week return.
The best news for long-term investors is that the stock market has historically performed well in the long run regardless of which party is elected. The S&P 500 has delivered gains during 15 of the last 18 presidential terms.
© 2016 Benzinga.com. Benzinga does not provide investment advice. All rights reserved.
Source