Light and strong aluminum has a bright future, but that doesn't change the fact that supply and demand are out of whack today. That's been a serious problem for Alcoa Inc. (NYSE:AA), which has been struggling to adjust to the oversupplied market. If you haven't checked in on the company in a while, you might be surprised how Alcoa has changed since the last recession.
Shutting down
The first big change at Alcoa has been cost-cutting. Aluminum is a commodity, and just like most other commodities, it saw a huge spike in demand as China's growth began to accelerate. That predictably led to an increase in supply. So when China's growth began to slow, coupled with generally weak growth throughout the world after the 2007 to 2009 recession, there was too much metal and not enough demand to soak it up. Prices did exactly what you would expect and fell.
Since Alcoa can't control the price of what it sells, controlling costs was the only option for dealing with the situation, but laying off a few employees wasn't going to be enough. Since 2008, the company has closed, curtailed, or divested 36% of its refining and 43% of its smelting capacity. Those are huge moves meant to reign in costs and trim industry supply.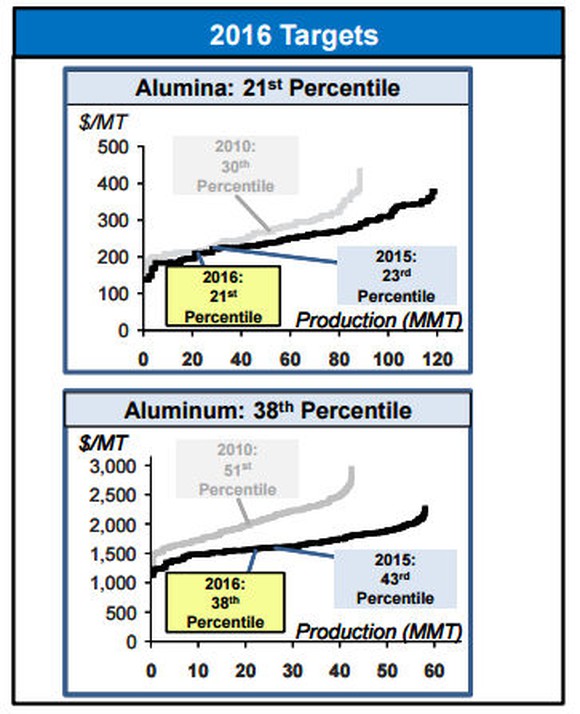 The success of these shifts becomes clear when you compare Alcoa to the broader industry in which it competes. For example, Alcoa has gone from the 31st percentile on the alumina cost curve to the 23rd. And it's moved from the 58th percentile in aluminum to the 43rd. These are huge shifts that better position the company to compete in the difficult markets it faces. But the company isn't done yet; its goal this year is to get...
More