The 1H NZD/USD chart shows a market that rallied from 0.8516 to 0.8778 since last week. The 0.8778 level was a new high on the year. 
However, we saw some correction take place towards the end of the 5/6 session. At the start of the 5/7 session, we got NZ jobs data. 
Employment change (Q1): 0.9%,
Forecast 0.6%,
Previous 1.0% (revised from 1.1%)
Unemployment rate (Q1): 6.0%
Forecast: 5.8%
Previous: 6.0%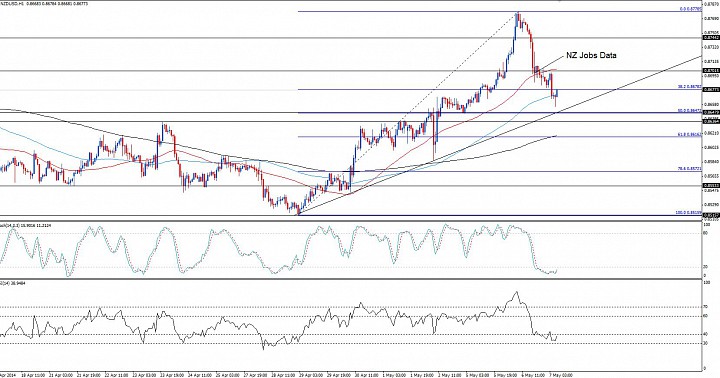 (NZD/USD 1h chart, 5/7)
This mixed data might not fuel NZD/USD for another new high on the year, but it is not that bad. It does not seem like it should shake NZD-bulls' confidence, and the prevailing bullish trend might extend higher regardless of this jobs report.
On the 1H chart, we see the pair fall back near a key support area. As we begin the US session, the Kiwi is trading
1) just above a rising trendline,
2) a pivot,
3) and 50% retracement.
The oscillators look like they might be turning up. Price action also looks like it is pivoting.
NZD/USD thus looks bullish for the 5/7 US session, with Yellen's congressional testimony as a key risk event.