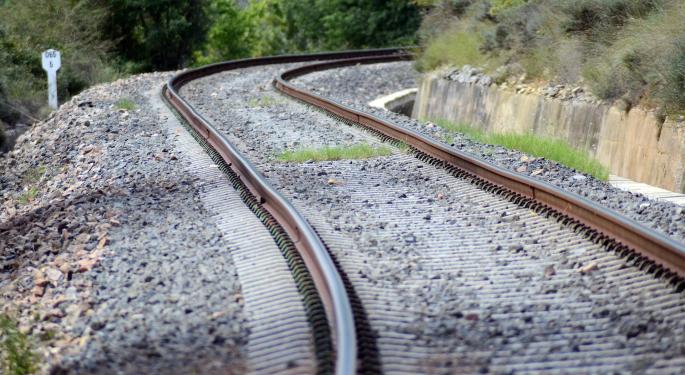 Aegis Capital's Jeffrey Kauffman believes that Kansas City Southern KSU 10.91% sahres are likely to increased risk of valuation discount of 10 percent, given the outcome of the Presidential election.
Kauffman downgraded the rating on the company from Buy to Hold, while lowering the price target from $105 to $95.
Earlier Expectations
The analyst had earlier believed that Kansas City Southern's "growth story can be even more dramatic as the unique franchise of the company will draw additional strength from Mexican near sourcing and potentially, energy reform, to reach mid-to-upper teens EPS growth rates through 2020."
In fact, less than a month ago, Kansas City Southern was expected to be able to drive significant incremental operating margins, along with low double digit EPS growth into 2017.
Cloudier Landscape
However, given the change in the political landscape in the US, the scenario has become "cloudier", specifically with regard to trade war risk.
The stock has consistently traded at premium of 20-30 percent. However, given Donald Trump's win, there is likely to be "increased potential for risk to free trade and NAFTA-related trade flows based on the President-elect's public election platform."
Jim Cramer warned on November 7 that a Trump victory could have a negative impact on Kansas City Southern, "main railroad that connects Mexico to the U.S."
| Date | Firm | Action | From | To |
| --- | --- | --- | --- | --- |
| Nov 2016 | Oppenheimer | Downgrades | Outperform | Perform |
| Nov 2016 | Bank of America | Downgrades | Buy | Neutral |
| Nov 2016 | Aegis Capital | Downgrades | Buy | Hold |
© 2016 Benzinga.com. Benzinga does not provide investment advice. All rights reserved.