Parker-Hannifin Corporation PH is scheduled to report fourth-quarter fiscal 2017 results before the opening bell on Aug 3.
Last quarter, the company posted its seventh consecutive earnings beat, recording a positive surprise of 13.4%. Parker-Hannifin boasts an average positive surprise of approximately 14.9% over the trailing four quarters.
We expect the company to beat earnings in the about-to-be-reported quarter.
Why a Likely Positive Surprise?
Our proven model shows an earnings beat for Parker-Hannifin as it possesses the key components.
Zacks ESP: Earnings ESP for Parker-Hannifin is +0.87% as the Most Accurate estimate is pegged at $2.33 while the Zacks Consensus Estimate is $2.31. A favorable Zacks ESP serves as a meaningful and leading indicator of a likely positive earnings surprise. You can uncover the best stocks to buy or sell before they're reported with our Earnings ESP Filter..
Zacks Rank: Parker-Hannifin has a Zacks Rank #2 (Buy). Note that stocks with Zacks Rank #1 (Strong Buy), 2 (Buy) or 3 have a significantly higher chance of beating earnings estimates. Conversely, Sell-rated stocks (Zacks Rank #4 or 5) should never be considered going into an earnings announcement.
The favorable combination of Parker-Hannifin's Zacks Rank #2 and +0.87% ESP makes us reasonably confident of a positive earnings beat.
What is Driving the Better-Than-Expected Earnings?
Parker-Hannifin continues to benefit from its extensive distribution network, which sells to the more lucrative MRO markets. Robust distribution sales have helped it in reaching out to smaller OEMs. We believe that the company's strong aftermarket sales are likely to raise its bottom line and margins for the fiscal fourth quarter. This apart, Parker-Hannifin's revamped "WIN Strategy", which cushions against global macroeconomic uncertainties, has acted as a staple growth driver.
The WIN Strategy, coupled with a host of other consolidation and simplification initiatives, helped Parker-Hannifin garner significant cost savings and witness margin expansion. During the reported fiscal fourth quarter, the company's adjusted segment operating margins expanded 140 basis points (bps) year over year thanks to its concerted restructuring activities, undertaken over the last few years. This trend is likely to continue for the soon-to-be-reported quarter.
In addition, the recent CLARCOR buyout, which has strengthened Parker-Hannifin's filtration product suite, will supplement the company's recurring revenue growth. Also, other bolt-on acquisitions completed over the past two years, namely, Jäger Automobil-Technik GmbH, Jäger Automotive Polska President Engineering Group Limited and Helac Corporation, are also expected to stoke its inorganic growth for the fiscal fourth quarter.
Despite these positives, Parker-Hannifin's diverse geographic presence is exposed to currency headwinds. The company's sales shrunk 3.2% for fiscal 2016 due to the same. We believe foreign currency translation risks will play a major spoilsport for fiscal 2017. This apart, sluggishness in its key natural resources market that includes oil and gas, agriculture, mining and construction equipment, are likely to hamper the company's growth.
In addition, rising prices of core materials like steel and aluminium are expected to erode the company's financials for the soon-to-be-reported quarter. Moreover, Parker-Hannifin's high restructuring charges might pose as headwind for the upcoming results. Earlier, the company declared incurring business realignment expenses of about $48 million in fiscal 2017, which is projected to impact earnings per share to the tune of $0.25.
Parker-Hannifin Corporation Price and EPS Surprise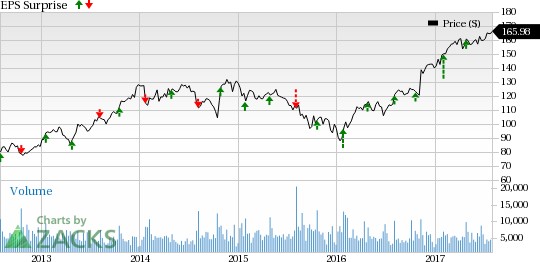 Parker-Hannifin Corporation Price and EPS Surprise | Parker-Hannifin Corporation Quote
Stocks That Warrant a Look
Here are some companies that you may want to consider, as our model shows that these have the right combination of elements to post an earnings beat this quarter.
Deere & Company DE has an Earnings ESP of +5.32% and a Zacks Rank #1. You can see the complete list of today's Zacks #1 Rank stocks here.
MSA Safety Incorporated MSA has an Earnings ESP of +5.75% and a Zacks Rank #2.
JELD-WEN Holding, Inc. JELD has an Earnings ESP of +7.69% and a Zacks Rank #2.
Will You Make a Fortune on the Shift to Electric Cars?
Here's another stock idea to consider. Much like petroleum 150 years ago, lithium power may soon shake the world, creating millionaires and reshaping geo-politics. Soon electric vehicles (EVs) may be cheaper than gas guzzlers. Some are already reaching 265 miles on a single charge.
With battery prices plummeting and charging stations set to multiply, one company stands out as the #1 stock to buy according to Zacks research.
It's not the one you think.
Want the latest recommendations from Zacks Investment Research? Today, you can download 7 Best Stocks for the Next 30 Days.
Click to get this free report
JELD-WEN Holding, Inc. (JELD): Free Stock Analysis Report
Deere & Company (DE): Free Stock Analysis Report
Parker-Hannifin Corporation (PH): Free Stock Analysis Report
MSA Safety Incorporporated (MSA): Free Stock Analysis Report
To read this article on Zacks.com click here.