Impacted by low non-interest income and high expenses, Northern Trust Corporation NTRS reported a negative earnings surprise of 4.8% in second-quarter 2017. Adjusted earnings per share came in at $1.18, missing the Zacks Consensus Estimate of $1.24. However, the reported figure compared favorably with $1.07 recorded in the year-ago quarter.

Escalating operating expenses and fall in non-interest income were recorded. However, top-line growth aided by higher net interest income and credit provisions was positives. In addition, the quarter witnessed a rise in assets under custody, as well assets under management.

Net income came in at $267.9 million or $1.12 per share compared with $263 million or $1.10 recorded in the prior-year quarter. Results include certain one-time items.

Margins Improve, Non-interest Income Falls, Costs Escalate

Total revenue of $1.33 billion was in line with the Zacks Consensus Estimate. The reported figure was slightly up year over year.

On a fully-taxable equivalent basis, net interest income of $350.4 million was up 14% year over year. This was driven by increased levels of average earning assets and higher net interest margin.

Net interest margin (NIM) was 1.28%, up 12 basis points from the prior-year quarter. The increase chiefly reflected higher short-term interest rates and reduced premium amortization. The positives were partially mitigated by an unfavorable mix shift in earning assets.

Non-interest income declined 4% from the year-ago quarter to $979.7 million. Fall in foreign exchange trading income, other operating income and treasury management fees were the primary reasons for this decrease. These were partially offset by elevated trust, investment, along with rise in security commissions and trading income.

Non-interest expenses were up 1% year over year to $937.4 million in the quarter. The rise was mainly driven by an elevation in mostly all components of expenses.

Improvement in Assets Under Management and Custody

As of Jun 30, 2017, Northern Trust's total assets under custody increased 16% year over year to $7.38 trillion, while total assets under management rose 14% to $1.03 trillion.

Credit Quality: A Mixed Bag

Total allowance for credit losses came in at $178.8 million, down 21% year over year. Net charge-offs were $3.2 million, up 33% from the year-ago quarter figure. Also, credit provision was $7.0 million in the quarter compared with $3.0 million in the prior-year quarter.

However, non-performing assets increased slightly year over year to $166.7 million as of Jun 30, 2017.

Strong Capital Position

Under the Advanced Approach, as of Jun 30, 2017, Tier 1 capital ratio, total capital ratio and Tier 1 leverage ratio were 14.5%, 16.5% and 8.1% respectively, each exceeding the regulatory requirements.

Capital Deployment Activities

During second-quarter 2017, Northern Trust repurchased 1.76 million shares for $157.6 million at an average price of $89.52 per share. This includes shares related to share-based compensation.

Recently, Northern Trust announced a quarterly cash dividend of 42 cents per share on common stock, indicating an increase of 10.5% over the prior dividend of 38 cents. The new dividend will be paid on Oct 1 to holders as of Sep 1, 2017.

The company's board of directors also approved a new common stock repurchase authorization of up to 9.5 million shares, replacing the authorization approved in Apr 2015.

Our Viewpoint

Results of Northern Trust display a decent performance in the reported quarter. We remain optimistic by the consistent growth in assets under custody, revenues and an improving credit quality to some extent. Moreover, positive impact of rising rates was visible. Though increase in expenses and lower non-interest income might pose a threat to the company's profitability, anticipated lesser regulations might act as a tailwind.
Northern Trust Corporation Price, Consensus and EPS Surprise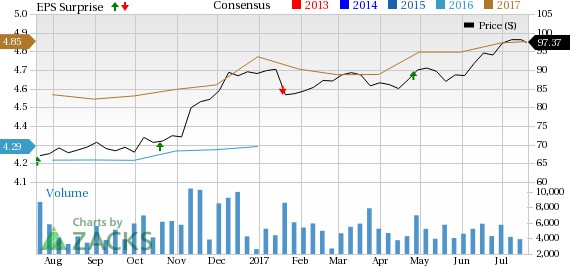 Northern Trust Corporation Price, Consensus and EPS Surprise | Northern Trust Corporation Quote
Currently, Northern Trust carries a Zacks Rank #2 (Buy). You can see the complete list of today's Zacks #1 Rank (Strong Buy) stocks here.

Performance of other Major Banks

Higher interest income drove Wells Fargo & Company's WFC second-quarter 2017 earnings which recorded a positive surprise of about 4.9%. Earnings of $1.07 per share outpaced the Zacks Consensus Estimate of $1.02. Moreover, the figure compared favorably with the prior-year quarter's earnings of $1.01 per share.

Citigroup Inc. C delivered a positive earnings surprise of 5.0% in second-quarter 2017, riding on higher revenues. The company's income from continuing operations per share of $1.27 for the quarter outpaced the Zacks Consensus Estimate of $1.21. Also, earnings compared favorably with the year-ago figure of $1.25 per share.

Rising interest rates and loan growth drove JPMorgan Chase & Co.'s JPM second-quarter 2017 earnings of $1.82 per share, which easily surpassed the Zacks Consensus Estimate of $1.57. Also, the figure reflects a 17% rise from the year-ago period. Notably, the results included a legal benefit of $406 million.

Looking for Stocks with Skyrocketing Upside?

Zacks has just released a Special Report on the booming investment opportunities of legal marijuana.

Ignited by new referendums and legislation, this industry is expected to blast from an already robust $6.7 billion to $20.2 billion in 2021. Early investors stand to make a killing, but you have to be ready to act and know just where to look. See the pot trades we're targeting>>
Want the latest recommendations from Zacks Investment Research? Today, you can download 7 Best Stocks for the Next 30 Days.
Click to get this free report
J P Morgan Chase & Co (JPM): Free Stock Analysis Report
Wells Fargo & Company (WFC): Free Stock Analysis Report
Citigroup Inc. (C): Free Stock Analysis Report
Northern Trust Corporation (NTRS): Free Stock Analysis Report
To read this article on Zacks.com click here.
Zacks Investment Research