As WTI Crude tests new lows this morning (Dec contract $45.32) after API reported a huge build...
Brent resumes downward trend, briefly dips below $48 to lowest level in over 2-wks. WTI extends drop toward $45 after API reports larger 7m bbl increase in U.S. crude inventories.

 

"API showed another huge build in crude stock yday -- now markets are awaiting today's official EIA report for confirmation of the trend," says Global Risk Management oil risk manager Michael Poulsen.

 

"Refinery utilization continues to be low due to maintenance season; could be a reason for the larger-than-expected build"
WTI at 3-week lows...
...we can't help but wonder "what happens next" in Dow Transports as the exuberant index has decoupled from oil for the 3rd time in a week...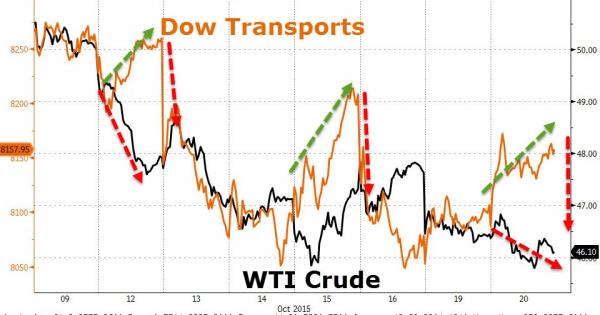 Is third time the charm?
There is only one problem!!
Gartman on WTI CRUDE OIL:

 

The Contango Widens and Trend Lines Are Broken: We were fortunate enough to have exited long positions, now we have to find a point at which to enter from the short side for we fear that this could get very, very ugly and do so very, very quickly.
Charts: Bloomberg