Shares of Honeywell (HON) has been consolidating since April this year. The daily chart shows that the consolidation turned out to be a rounded price top when shares dropped sharply at the start of October.
HON Daily Chart 10/21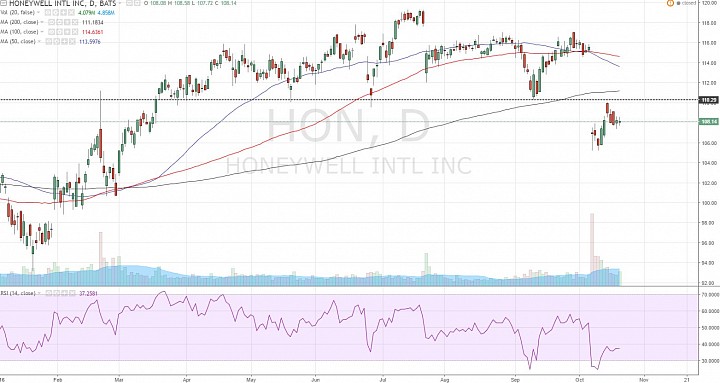 (click to enlarge)
Price top:
- The daily chart shows that after price fell below 110, HON essentially completed a price top.
- Price pulled back up last week, but respected the price top so far this week.
Q3 Earnings:
- The technical picture looks bearish now, but Q3 earnings just came in better-than-expected and should give HON a boost.
NEW YORK (TheStreet) -- Shares of Honeywell Int'l (HON) were advancing in pre-market trading on Friday after the company posted better-than-anticipated results for the 2016 third quarter.

Before the market open, the Morris Plains, NJ-based tech and manufacturing company reported adjusted earnings of $1.67 per share, beating analysts'estimates of $1.60 per share.

Revenue for the period was $9.80 billion, while analysts were looking for revenue of $9.78 billion.

We are well-positioned for double-digit earnings growth in the fourth quarter, leading to 8%-9% earnings growth in 2016," CEO Dave Cote said in a statement.

For the fourth quarter, Honeywell sees earnings per share between $1.74 and $1.78. Analysts are forecasting earnings of $1.80 per share for the current period.

Full-year earnings per share are projected to be in the range of $6.60 to $6.64 on revenue of $39.40 billion to $39.60 billion.

Analysts are expecting earnings of $6.68 per share on revenue of $39.63 billion for 2016. (Full article at thestreet.com)
Will HON turn bullish?
- I think we should monitor today's rally into next week and see if the market rejects the rally.
- The area around 112-114 is where I would suspect some selling. 
- If price climbs above 114, I would loss some confidence in the bearish outlook.
- Then, if price can start holding above 110 on a subsequent bearish attempt, I would start looking at the bullish continuation scenario.
Downside risk:
- Before this week's earnings report, I was monitoring the 100 handle for support. 
- Note the bullish trend in the weekly chart. 100 would coincide with a common support pivot and a rising trendline. 
- If HON fails to push back above 110, it should have downside risk to 100.
- However with the stronger-than-expected earnings report, this bearish outlook seems unlikely. 
HON Weekly Chart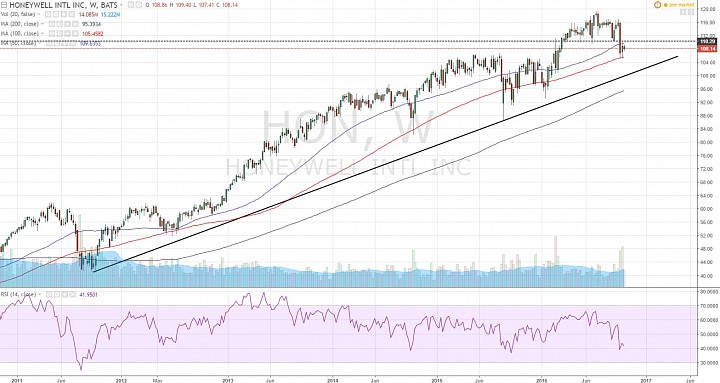 (click to enlarge)
Bullish Outlook:
- I suspect that the market will trade sideways (between 105 and 114) for a while before returning to the bullish outlook.
- In my estimation, a price top was formed and a period of consolidation/correction was at hand. 
- However, the better than expected earnings could keep the mode of the consolidation more sideways instead of bearish. 
- With the prevailing uptrend intact, the bullish outlook is probably more likely after a period of consolidation.