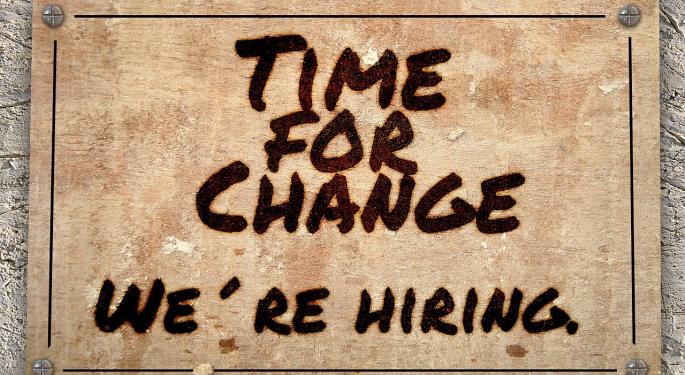 As June's blowout jobs report last Friday made abundantly clear, U.S. companies have not lost their appetite for hiring. In recent weeks, several U.S. companies have announced plans to bring hundreds of new jobs to communities around the country.
Novavax, Inc. NVAX 3.67% recently announced it will be adding 850 new jobs in Gaithersburg, Maryland, as it expands its R&D business.
Pilgrim's Pride Corporation PPC 0.5% has announced a $24 million expansion that will create about 140 jobs near Frankfort, Kentucky.
In Aurora, Illinois, Shorr Packaging just cut the ribbon on its brand new 242,732 square-foot headquarters, which will create 140 new jobs.
Related Link: TDAmeritrade's J.J. Kinahan On Jobs Report, M&A And Market Performance
Even some of the biggest U.S. companies are going on hiring sprees. Amazon.com, Inc. AMZN 1.22% is building a new 600,000 square-foot fulfillment center in Braselton, Georgia, that will create 500 local jobs.
Bristol-Myers Squibb Co BMY 0.09% is expanding its biologics medicines facility in Devens, Massachusetts. The $280 million project will create 350 jobs over time.
Even Fidelity Investments is even adding 250 new jobs in Albequerque, New Mexico, at a time when much of the financial industry is concerned about potential job cuts.
Of course, the struggling energy sector is still slashing jobs in an attempt to cut spending amid slumping oil prices. The global economy has reportedly lost a total of more than 350,000 oil & gas jobs during the current downturn, including more than 118,000 in the U.S.
Did you like this article? Could it have been improved? Please email feedback@benzinga.com to let us know!
Disclosure: The author holds no position in the stocks mentioned.
© 2016 Benzinga.com. Benzinga does not provide investment advice. All rights reserved.