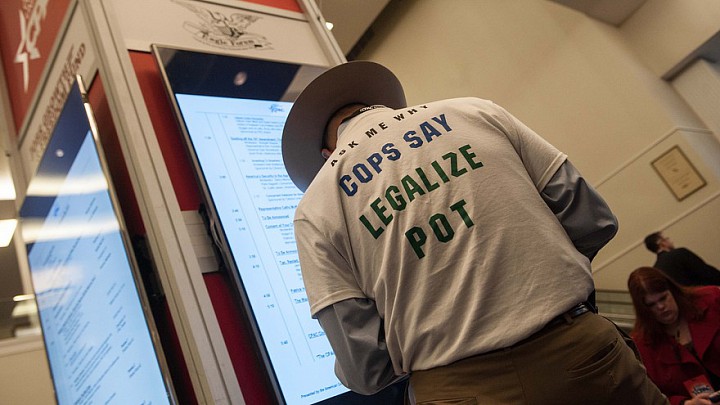 Compared to 1969, when only 12% supported legalizing pot, the majority of Americans today support legalizing recreational use of the drug. It is legal to purchase marijuana in four states — Alaska, Colorado, Oregon, and Washington — as well as in the District of Columbia. Before the legalization, all of these states had already reduced the penalties for possession and use of small amounts of the drug or introduced policies permitting medical marijuana use. To identify the states most likely to legalize marijuana next, 24/7 Wall St. reviewed the 11 states where by law residents in possession of small amounts of the drug are not punishable by jail time, and medical marijuana use is permitted. Various moral and practical arguments have helped to catalyze the growing trend of legalization and decriminalization of marijuana. The potential tax revenue, job creation, and reduction of the burden of offenders on state prison systems, for example, have likely been a motivating factor behind the bills to regulate and legalize the drug in many of the states on this list. To identify the next states to legalize marijuana, 24/7 Wall St. reviewed states where possession of small amounts of marijuana is not punishable by jail and where medical marijuana is currently legal based on data from The Marijuana Policy Project. Also considered were marijuana-related arrests per 100,000 residents through 2012 provided by the FBI's Uniform Crime Report. In addition, we considered the estimated proportion of residents 12 and older who had used marijuana some time in the past year, based on annualized data from 2012 and 2013, from the Substance Abuse and Mental Health Services Administration. Public opinion polls were provided by the Marijuana Policy Project based on the most recent available survey. All data on current enforcement policies and penalties were provided by NORML.
These are the states where marijuana is most likely to be legalized.
http://www.marketwatch.com/story/the-next-11-states-that-wil...